IoT Embedded Gateways
With an embedded IoT communication gateway from Diamond Technologies installed in your remote equipment, you can 

better, maintain, manage, and improve the efficiency of your machinery.  Our IoT communication gateways act as a Remote Manager and pull machine data directly from your I/O or communicate with your PLC to transmit the data to a hosting server via Ethernet (cellular and WiFi options also available with our DT9000 products).  From there, you can monitor, maintain and control your equipment to reduce service trips and maintenance costs while improving uptime, performance, and customer satisfaction.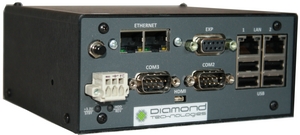 Our Netbiter® series of IoT embedded gateways uploads your machine data to the Argos data center, where you can enjoy instant, secure access to your information from any location using your PC, tablet or smartphone.  Analyze your data, monitor trends and set email/text notifications using web-based applications – no software to install or manage.  Or with some models, downloading the optional Remote Access WindowsTM driver to your computer enables you to remotely configure and operate your machinery from your office using your regular PLC configuration software over a secure and easy to use connection.
The DT9000 IoT gateway module gives you the fastest way to add embedded remote connectivity to your PLC-based equipment.  Designed for rapid integration to machine-to-machine (M2M) embedded gateway applications, it supports the leading PLCs including serial and Ethernet connection schemes.   This includes Ethernet EIP UCMM client connections.
The DT9000 is compatible with the ThingWorx and Axeda Machine Cloud™ data hosting service and remote management web applications, providing you with scalable monitoring and analysis tools for your data via a secure web page.  It can also be used with the Live Data Cloud feature within the OPC Systems.NET software suite, enabling any PC connected to the Internet to host your real-time and historical data.
Our technical support team can help you find the best match to your application needs from our selection of embedded and PC gateways.  Call us at (866) 837-1931.  Or click below to learn more about our advanced product line: