EPSITRON® Power Supplies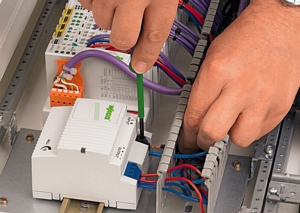 Our power supplies provide a range of input and output voltages as well as form factors and price points. There are (4) main lines of switched mode power supplies, namely 787 EPSITRON® Compact, ECO, Pro, and Classic. In addition to these we have the 787 Specialized series of UPS Chargers, Capacitive buffers, Electronic Circuit Breakers, and Redundancy modules. These meet the needs of many applications where a backup supply is needed. Lastly in this section you will also find our 289, 288, 859, DC/DC converters, Constant voltage sources, and supplies.
Power supplies are DIN Rail mounted and industrial providing power in electrical panels for many diverse automation application needs. Our power supplies come in plastic and metal enclosures and feature natural convection cooling. The supplies are designed to be mounting in various orientations making panel design easier and reducing space requirements.