787 EPSITRON® Pro Series Power Supplies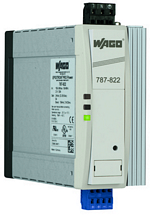 The 787 Pro series of power supplies includes switched mode power supplies with input ranges from 85-264VAC and 120-350VDC.  The supplies include models with 12, 24, and 48VDC output power.  The Pro Series has high power output with output current ranging from 3 to 15 Amps.
787 Pro Series power supplies have metal enclosures, are DIN Rail mountable, and designed to meet challenging applications.  Models can include LCD display and RS232 Line monitoring capabilities.
AVAILABLE MODELS:
| | |
| --- | --- |
| 787-833 | Primary switch mode EPSITRON® PRO Power supplies; Output voltage DC 48 V; 5 A; open circuit and short-circuit protected; adjustable output voltage; LED status indication; PowerBoost |
| 787-834 | Primary switch mode EPSITRON® PRO Power supplies; Output voltage DC 24 V; 20 A; open circuit and short-circuit protected; adjustable output voltage; LED status indication; PowerBoost |
| 787-835 | Primary switch mode EPSITRON® PRO Power supplies; Output voltage DC 48 V; 10 A; open circuit and short-circuit protected; adjustable output voltage; LED status indication; PowerBoost |
| 787-840 | Primary switch mode PRO Power supplies; Output voltage DC 24 V; 10 A; adjustable output voltage; LED status indication; PowerBoost |
| 787-842 | Primary switch mode PRO Power supplies; Output voltage DC 24 V; 20 A; adjustable output voltage; LED status indication; PowerBoost |
| 787-844 | Primary switch mode PRO Power supplies; Output voltage DC 24 V; 40 A; adjustable output voltage; LED status indication; PowerBoost |
| 787-844/000-002 | Primary switch mode PRO Power supplies |
| 787-845 | Primary switch mode EPSITRON® PRO Power supplies; Output voltage DC 48 V; 10 A; open circuit and short-circuit protected; adjustable output voltage; LED status indication; PowerBoost |
| 787-847 | Primary switch mode EPSITRON® PRO Power supplies; Output voltage DC 48 V; 20 A; open circuit and short-circuit protected; adjustable output voltage; LED status indication; PowerBoost |
| 787-850 | Primary switch mode PRO Power supplies; Output voltage DC 24 V; 10 A; adjustable output voltage; LED status indication; PowerBoost; LineMonitor |
| 787-852 | Primary switch mode PRO Power supplies; Output voltage DC 24 V; 20 A; adjustable output voltage; LED status indication; PowerBoost; LineMonitor |
| 787-854 | Primary switch mode PRO Power supplies; Output voltage DC 24 V; 40 A; adjustable output voltage; LED status indication; PowerBoost; LineMonitor |