DT7000 Gateway
The DT7000 industrial network gateway provides Digital Input, Digital Output, Analog Input, Analog Output, multiple serial channels, Ethernet, and support for all major Fieldbus networks.  The DT7000 allows OEM equipment suppliers to easily bridge multiple serial devices into a machine's Fieldbus network and easily add additional I/O onto the Fieldbus network.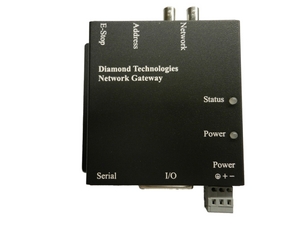 The DT7000 supports full C programming, which allows the module to act as a controller running user-programmed logic.  Supported Fieldbus networks include EtherCAT, CANopen, Modbus TCP/IP, Ethernet IP, Profibus, Profinet, DeviceNet, ControlNet, Modbus RTU, BACNet, Powerlink, Sercos, CC-Link, and Bluetooth.  The DT7000 includes a user configuration menu allowing for serial ports to be configured as Modbus Master or Slave or as a generic serial port.   Applications include semiconductor equipment, Automatic Guided vehicles, high reliability power systems, packaging machines, industrial measurement and weighing equipment, and assembly machines.
The DT7000 can also operate as an embedded web server providing a window into a remote machine or process.   This allows for remote diagnostics and control.
AVAILABLE MODELS:                                               
Starter Kit Part Number
Description
DT7000- STKIT10
DT7000 Starter Kit, including DT7000 I/O Network Gateway, (4) RS232/RS485 interface ports, HD I/O board including 8 DI Sinking, 8 DO Sinking, 8 Analog input, 4 Analog output, 0-10V, C Programmable, burn in/test,  Cabling including DIO, AIO, Diag, RS232, RS485 cabling, User documentation

 
ORDERING MATRIX:          
| | | | | | |
| --- | --- | --- | --- | --- | --- |
| DT7000 | A | B | C | D | E |
|   | Serial / Ethernet | Digital I/O (8 in, 8 out) | Networks | Analog I/O | Options |
|   | A – 4 Serial Channels (RS232 or RS485) | 0 – Sinking Inputs and Outputs | TCP – Modbus TCP | (8 in, 4 out) | blank – None |
|   | B – 4 Serial Channels (RS232 only) | 1 – Sourcing Inputs and Outputs | RTU – Modbus RTU | A – 0-10 VDC | 001 – Terminal Blocks (Up to 96 I/Os) |
|   | C – 4 Serial Channels (RS232 or Isolated RS485) | x – Custom configuration | PNT – Profinet | B – 0-5 VDC | EM – Enclosure, metal |
|   | D – 2 Serial Channels (RS232 only) |   | PB – Profibus | C – 0-20 mA | EMD – Enclosure, metal, DIN rail mtg |
|   | E – Ethernet plus 3 Serial Channels (1- RS232, 2-RS232/485) |   | EIP – EtherNet IP |   | BT – Wireless, Bluetooth |
|   | Q – Custom, please contact the factory |   | ECT – EtherCat |   | WF – Wireless, Wifi |
|   |   |   | DN – DeviceNet |   | 9xx – Custom |
|   |   |   | COP – CANOpen |   |   |
|   |   |   | CNT – ControlNet |   |   |
|   |   |   | CCL – CC-Link |   |   |
|   |   |   | blank – None |   | |
Example: 
DT7000A1-PB-A: DT7000 with 4 serial channels, 16 sourcing inputs/outputs, Profibus support with 12 analog  inputs/outputs (0-10VDC)