Remote Management Solutions
Anyone who has installed equipment in remote locations knows how difficult it can be to maintain and service those machines from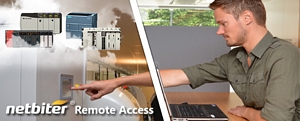 afar.  Service trips are time-consuming and expensive.  Multiple spare-parts inventories must be maintained.  Frequent site visits are required to collect performance data and make sure everything is running smoothly.
Not any more.
Now you can improve uptime and performance while reducing maintenance costs through remote monitoring and service with Diamond Technologies.  We provide advanced cloud-based connectivity and software for managing connected products and machines using Machine-to-Machine (M2M) and Internet of Things (IoT) applications.
Right from your office, you can monitor the output of your equipment, check fuel levels on your generators, debug and reprogram your remote PLC or clear a fault and restart.  Using analysis tools for trending coupled with alarms and notifications, you can improve your company's profitability through fewer but more productive field service visits.
Our remote management solutions help you to:
Identify maintenance issues

before

the machine goes down with proactive fault notification
Schedule maintenance only when required
Reduce guesswork about which spare parts to bring on a service trip
Minimize spare parts inventory
Fix problems fast with reduced diagnosis and troubleshooting time
Reduce travel costs with remote repair and monitoring
Increase equipment uptime
Reduce service and support costs
Reduce info gathering time
Identify and lower risks
Improve profitability
Your M2M remote management solution comprises two main parts:  a communication gateway installed on your equipment plus data collection and analysis software with a reporting/dashboard interface.
Our technical support team can help you find the best match to your application needs from our selection of embedded and PC gateways.
You can opt to host your own data and run analysis and reporting using software residing on your PC.  Or you can choose an external hosting service, accessing and analyzing your data via secure web-based applications.  Either method provides you with useful features such as trending, alarming, reporting and custom dashboards.
Click on the links to the right to learn more about our complete solutions.