869, 264 Chassis Terminal Blocks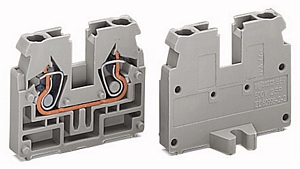 Our WAGO 869 and 264 series are some of our most popular chassis mount blocks. These series are the most flexible as they are fully modular and can be assembled as needed to meet application requirements. Snap in mounting feed and screw down fixing flanges along with multiple color options are available.
The 869 and 264 both provide top entry wire insertion for easier wiring.
| | |
| --- | --- |
| Part Number | Description |
| 264-102 | MOD TRM STR W/FIXING FLANGE 2 POS |
| 264-103 | MOD TRM STRP W/FIXING FLANGE 3 POS |
| 264-104 | MOD TRM STRP W/FIXING FLANGE 4 POS |
| 264-105 | MOD TRM STRP W/FIXING FLANGE 5 POS |
| 264-106 | MOD TRM STRP W/FIXING FLANGE 6 POS |
| 264-107 | MOD TRM STRP W/FIXING FLANGE 7 POS |
| 264-108 | MOD TRM STRP W/FIXING FLANGE 8 POS |
| 264-109 | MOD TRM STRP W/FIXING FLANGE 9 POS |
| 264-110 | MOD TRM STRP W/FIXING FLANGE 10 POS |
| 264-111 | MOD TRM STRP W/FIXING FLANGE 11 POS |
| 264-112 | MOD TRM STRP W/FIXING FLANGE 12 POS |
| 264-130 | MOD TRM BLK-1-END EEX |
| 264-131 | MOD TRM BLK 2CON CENTER EEX |
| 264-132 | MOD TRM STRP-1-EX 2POS W/FIX FLANGE |
| 264-133 | MOD TRM STRP-1-EX 3POS W/FIX FLANGE |
| 264-134 | MOD TRM STRP-1-EX 4POS W/FIX FLANGE |
| 264-135 | MOD TRM STRP-1-EX 5POS W/FIX FLANGE |
| 264-136 | MOD TRM STRP-1-EX 6POS W/FIX FLANGE |
| 264-137 | MOD TRM STRP-1-EX 7POS W/FIX FLANGE |
| 264-138 | MOD TRM STRP-1-EX 8POS W/FIX FLANGE |
| 264-139 | MOD TRM STRP-1-EX 9POS W/FIX FLANGE |
| 264-140 | MOD TRM STRP-1-EX 10POS W/FIX FLANGE |
| 264-141 | MOD TRM STRP-1-EX 11POS W/FIX FLANGE |
| 264-142 | MOD TRM STRP-1-EX 12POS W/FIX FLANGE |
| 264-152 | MOD TRM STRP W/MTG FT 2 POS |
| 264-153 | MOD TRM STRP W/MTG FT 3 POS |
| 264-154 | MOD TRM STRP W/MTG FT 4 POS |
| 264-155 | MOD TRM STRP W/MTG FT 5 POS |
| 264-156 | MOD TRM STRP W/MTG FT 6 POS |
| 264-157 | MOD TRM STRP W/MTG FT 7 POS |
| 264-158 | MOD TRM STRP W/MTG FT 8 POS |
| 264-159 | MOD TRM STRP W/MTG FT 9 POS |
| 264-160 | MOD TRM STRP W/MTG FT 10 POS |
| 264-161 | MOD TRM STRP W/MTG FT 11 POS |
| 264-162 | MOD TRM STRP W/MTG FT 12 POS |
| 264-180 | MOD TRM BLK-1-EX W/SNAP IN MTG FT |
| 264-182 | MOD TRM STRP1EX 2P W/SNAP IN MTG FT |
| 264-183 | MOD TRM STRP1EX 3P W/SNAP IN MTG FT |
| 264-184 | MOD TRM STRP1EX 4P W/SNAP IN MTG FT |
| 264-185 | MOD TRM STRP1EX 5P W/SNAP IN MTG FT |
| 264-186 | MOD TRM STRP1EX 6P W/SNAP IN MTG FT |
| 264-187 | MOD TRM STRP1EX 7P W/SNAP IN MTG FT |
| 264-188 | MOD TRM STRP1EX 8P W/SNAP IN MTG FT |
| 264-189 | MOD TRM STRP1EX 9P W/SNAP IN MTG FT |
| 264-190 | MOD TRM STRP1EX 10P W/SNAP IN MTG FT |
| 264-191 | MOD TRM STRP1EX 11P W/SNAP IN MTG FT |
| 264-192 | MOD TRM STRP1EX 12P W/SNAP IN MTG FT |
| 264-202 | MOD TRM STRP W/FIXING FLANGE 2 POS |
| 264-203 | MOD TRM STRP W/FIXING FLANGE 3 POS |
| 264-204 | MOD TRM STRP W/FIXING FLANGE 4 POS |
| 264-205 | MOD TRM STRP W/FIXING FLANGE 5 POS |
| 264-206 | MOD TRM STRP W/FIXING FLANGE 6 POS |
| 264-207 | MOD TRM STRP W/FIXING FLANGE 7 POS |
| 264-208 | MOD TRM STRP W/FIXING FLANGE 8 POS |
| 264-209 | MOD TRM STRP W/FIXING FLANGE 9 POS |
| 264-210 | MOD TRM STRP W/FIXING FLANGE 10 POS |
| 264-211 | MOD TRM STRP W/FIXING FLANGE 11 POS |
| 264-212 | MOD TRM STRP W/FIXING FLANGE 12 POS |
| 264-230 | MOD TRM BLK-2-END EEX |
| 264-231 | MOD TRM BLK 2CON CENTER EEX |
| 264-232 | MOD TRM STRP-2-SCRW MT EX |
| 264-233 | MOD TRM STRP-2-SCRW MT EX |
| 264-234 | MOD TRM STRP-2-SCRW MT EX |
| 264-235 | MOD TRM STRP-2-SCRW MT EX |
| 264-236 | MOD TRM STRP-2-SCRW MT EX |
| 264-237 | MOD TRM STRP-2-SCRW MT EX |
| 264-238 | MOD TRM STRP-2-SCRW MT EX |
| 264-239 | MOD TRM STRP-2-SCRW MT EX |
| 264-240 | MOD TRM STRP-2-SCRW MT EX |
| 264-241 | MOD TRM STRP-2-SCRW MT EX |
| 264-242 | MOD TRM STRP-2-SCRW MT EX |
| 264-252 | MOD TRM STRP W/MTG FT |
| 264-253 | MOD TRM STRP W/MTG FT |
| 264-254 | MOD TRM STRP W/MTG FT |
| 264-255 | MOD TRM STRP W/MTG FT |
| 264-256 | MOD TRM STRP W/MTG FT |
| 264-257 | MOD TRM STRP W/MTG FT |
| 264-258 | MOD TRM STRP W/MTG FT |
| 264-259 | MOD TRM STRP W/MTG FT |
| 264-260 | MOD TRM STRP W/MTG FT |
| 264-261 | MOD TRM STRP W/MTG FT |
| 264-262 | MOD TRM STRP W/MTG FT |
| 264-280 | MOD TRM BLK-2-SLF FIX EX |
| 264-282 | MOD TRM STRP-2-SLF FIX EX |
| 264-283 | MOD TRM STRP-2-SLF FIX EX |
| 264-284 | MOD TRM STRP-2-SLF FIX EX |
| 264-285 | MOD TRM STRP-2-SLF FIX EX |
| 264-286 | MOD TRM STRP-2-SLF FIX EX |
| 264-287 | MOD TRM STRP-2-SLF FIX EX |
| 264-288 | MOD TRM STRP-2-SLF FIX EX |
| 264-289 | MOD TRM STRP-2-SLF FIX EX |
| 264-290 | MOD TRM STRP-2-SLF FIX EX |
| 264-291 | MOD TRM STRP-2-SLF FIX EX |
| 264-292 | MOD TRM STRP-2-SLF FIX EX |
| 264-301 | SINGLE END TRM BLK 2CON W/FIX FLANGE |
| 264-304 | SINGLE END TRM BLK 2C-C W/FIX FLG BL |
| 264-306 | SINGLE END TRM BLK 2C-C FIX FLG ORNG |
| 264-307 | SINGLE END TRM BLK 2C-C FIX FLG GR/Y |
| 264-311 | SINGLE TRM BLK W/MTG FT |
| 264-314 | SINGLE TRM BLK W/MTG FT BLUE |
| 264-316 | SINGLE TRM BLK W/MTG FT ORANGE |
| 264-317 | SINGLE TRM BLK W/MTG FT GRN/YLLW |
| 264-321 | SINGLE TRM BLK CENTER 2CON |
| 264-324 | SINGLE TRM BLK CENTER 2CON BLUE |
| 264-326 | SINGLE TRM BLK CENTER 2CON ORANGE |
| 264-327 | SINGLE BLK CENTER 2CON GREEN/YELLOW |
| 264-331 | SINGLE TRM BLK END W/FIXING FLANGE |
| 264-334 | SINGLE END TRM BLK 4C-C FIX FLG BLUE |
| 264-336 | SINGLE END TRM BLK 4CON FIX FLG ORNG |
| 264-337 | SINGLE END TRM BLK 4CON FIX FLG GRND |
| 264-341 | SINGLE TRM BLK W/MTG FT |
| 264-344 | SINGLE TRM BLK W/MTG FT BLUE |
| 264-346 | SINGLE TRM BLK W/MTG FT ORANGE |
| 264-347 | SINGLE TRM BLK W/MTG FT GRN/YLLW |
| 264-351 | SINGLE TRM BLK CENTER 4CON |
| 264-354 | SINGLE TRM BLK CENTER 4CON BLUE |
| 264-356 | SINGLE TRM BLK CENTER 4CON ORANGE |
| 264-357 | SINGLE TRM BLK CENTER 4CON GRN/YLLW |
| 264-361 | END PLATE W/FIXING FLANGE |
| 264-363 | END PLATE W/FIX FL LT GREY |
| 264-364 | END PLATE W/FIX FL ORANGE |
| 264-367 | SEPARATOR EX |
| 264-371 | END PLATE |
| 264-373 | END PLATE EEX |
| 264-374 | END PLATE-ORANGE |
| 264-402 | JUMPER |
| 869-102 | MOD COMPACT BLOCK TS W/ FF |
| 869-103 | MOD COMPACT BLOCK TS W/ FF |
| 869-104 | MOD COMPACT BLOCK TS W/ FF |
| 869-105 | MOD COMPACT BLOCK TS W/ FF |
| 869-106 | MOD COMPACT BLOCK TS W/ FF |
| 869-107 | MOD COMPACT BLOCK TS W/ FF |
| 869-108 | MOD COMPACT BLOCK TS W/ FF |
| 869-109 | MOD COMPACT BLOCK TS W/ FF |
| 869-110 | MOD COMPACT BLOCK TS W/ FF |
| 869-111 | MOD COMPACT BLOCK TS W/ FF |
| 869-112 | MOD COMPACT BLOCK TS W/ FF |
| 869-132 | MOD COMPACT BLK TS W/ FF LT GRY |
| 869-133 | MOD COMPACT BLK TS W/ FF LT GRY |
| 869-134 | MOD COMPACT BLK TS W/ FF LT GRY |
| 869-135 | MOD COMPACT BLK TS W/ FF LT GRY |
| 869-136 | MOD COMPACT BLK TS W/ FF LT GRY |
| 869-137 | MOD COMPACT BLK TS W/ FF LT GRY |
| 869-138 | MOD COMPACT BLK TS W/ FF LT GRY |
| 869-139 | MOD COMPACT BLK TS W/ FF LT GRY |
| 869-140 | MOD COMPACT BLK TS W/ FF LT GRY |
| 869-141 | MOD COMPACT BLK TS W/ FF LT GRY |
| 869-142 | MOD COMPACT BLK TS W/ FF LT GRY |
| 869-152 | MOD COMPACT BLK TS W/SNAP-IN MF |
| 869-153 | MOD COMPACT BLK TS W/SNAP-IN MF |
| 869-154 | MOD COMPACT BLK TS W/SNAP-IN MF |
| 869-155 | MOD COMPACT BLK TS W/SNAP-IN MF |
| 869-156 | MOD COMPACT BLK TS W/SNAP-IN MF |
| 869-157 | MOD COMPACT BLK TS W/SNAP-IN MF |
| 869-158 | MOD COMPACT BLK TS W/SNAP-IN MF |
| 869-159 | MOD COMPACT BLK TS W/SNAP-IN MF |
| 869-160 | MOD COMPACT BLK TS W/SNAP-IN MF |
| 869-161 | MOD COMPACT BLK TS W/SNAP-IN MF |
| 869-162 | MOD COMPACT BLK TS W/SNAP-IN MF |
| 869-182 | MOD CMPT BLK TS W/SNP-IN MF LT GRY |
| 869-183 | MOD CMPT BLK TS W/SNP-IN MF LT GRY |
| 869-184 | MOD CMPT BLK TS W/SNP-IN MF LT GRY |
| 869-185 | MOD CMPT BLK TS W/SNP-IN MF LT GRY |
| 869-186 | MOD CMPT BLK TS W/SNP-IN MF LT GRY |
| 869-187 | MOD CMPT BLK TS W/SNP-IN MF LT GRY |
| 869-188 | MOD CMPT BLK TS W/SNP-IN MF LT GRY |
| 869-189 | MOD CMPT BLK TS W/SNP-IN MF LT GRY |
| 869-190 | MOD CMPT BLK TS W/SNP-IN MF LT GRY |
| 869-191 | MOD CMPT BLK TS W/SNP-IN MF LT GRY |
| 869-192 | MOD CMPT BLK TS W/SNP-IN MF LT GRY |
| 869-202 | MOD TRM STRIP W/FIXING FLANGE M4 |
| 869-203 | MOD TRM STRIP W/FIXING FLANGE M4 |
| 869-204 | MOD TRM STRIP W/FIXING FLANGE M4 |
| 869-205 | MOD TRM STRIP W/FIXING FLANGE M4 |
| 869-206 | MOD TRM STRIP W/FIXING FLANGE M4 |
| 869-207 | MOD TRM STRIP W/FIXING FLANGE M4 |
| 869-208 | MOD TRM STRIP W/FIXING FLANGE M4 |
| 869-209 | MOD TRM STRIP W/FIXING FLANGE M4 |
| 869-210 | MOD TRM STRIP W/FIXING FLANGE M4 |
| 869-211 | MOD TRM STRIP W/FIXING FLANGE M4 |
| 869-212 | MOD TRM STRIP W/FIXING FLANGE M4 |
| 869-232 | MOD TS W/FIXING FLANGE LT GREY M4 |
| 869-233 | MOD TS W/FIXING FLANGE LT GREY M4 |
| 869-234 | MOD TS W/FIXING FLANGE LT GREY M4 |
| 869-235 | MOD TS W/FIXING FLANGE LT GREY M4 |
| 869-236 | MOD TS W/FIXING FLANGE LT GREY M4 |
| 869-237 | MOD TS W/FIXING FLANGE LT GREY M4 |
| 869-238 | MOD TS W/FIXING FLANGE LT GREY M4 |
| 869-239 | MOD TS W/FIXING FLANGE LT GREY M4 |
| 869-240 | MOD TS W/FIXING FLANGE LT GREY M4___ |
| 869-241 | MOD TS W/FIXING FLANGE LT GREY M4 |
| 869-242 | MOD TS W/FIXING FLANGE LT GREY M4___ |
| 869-301 | MOD END TRM BLK W/FF |
| 869-304 | MOD END TRM BLK W/FF BLUE |
| 869-307 | MOD END TRM BLK W/FF G-Y |
| 869-309 | MOD END TRM BLK W/FF LT GREY |
| 869-311 | MOD CENTER TB W/SNAP IN MTG FT |
| 869-314 | MOD CENTER TB W/SNAP IN MTG FT BLUE |
| 869-316 | MOD CENTER TB W/SNAP IN MTG FT ORANG |
| 869-317 | MOD CENTER TB W/SNAP IN MTG FT G-Y |
| 869-319 | MOD CENTER TB W/SNAP IN MTG FT L GRY |
| 869-321 | MOD CENTER TB W/O SNAP MTG FT |
| 869-324 | MOD CENTER TB W/O SNAP MTG FT BLUE |
| 869-326 | MOD CENTER TB W/O SNAP MTG FT ORANGE |
| 869-327 | MOD CENTER TB W/O SNAP MTG FT G/Y |
| 869-328 | MOD CENTER TB W/O SNAP MTG FT GD |
| 869-329 | MOD CENTER TB W/O SNAP MTG FT LG |
| 869-331 | MOD END TRM BLK W/SNAP MTG FT |
| 869-334 | MOD END TRM BLK W/SNAP MTG FT BLUE |
| 869-337 | MOD END TRM BLK W/SNAP MTG FT G-Y |
| 869-339 | MOD END TRM BLK W/SNAP MTG FT L GREY |
| 869-341 | MOD END TB W/O SNAP MTG FT |
| 869-344 | MOD END TB W/O SNAP MTG FT_BLUE |
| 869-347 | MOD END TB W/O SNAP MTG FT G-Y |
| 869-349 | MOD END TB W/O SNAP MTG FT L GREY |
| 869-351 | MOD END TRM BLK W/FF |
| 869-354 | MOD END TRM BLK W/FF BLUE |
| 869-357 | MOD END TRM BLK W/FF G-Y |
| 869-359 | MOD END TRM BLK W/FF LT GREY |
| 869-375 | END PLATE |
| 869-377 | END PLATE LIGHT GREY |
| 869-378 | END PLATE BLUE |
| 869-379 | END PLATE GREEN-YELLOW |
| 869-385 | END PLATE |
| 869-387 | END PLATE LIGHT GREY |
| 869-388 | END PLATE BLUE |
| 869-389 | END PLATE GREEN-YELLOW |
| 869-395 | END PLATE GREY W/FIXING FLANGE M4 |
| 869-397 | END PLATE LIGHT GREY |
| 869-398 | END PLATE BLUE |
| 869-399 | END PLATE GREEN-YELLOW |