Ultra High Frequency Tags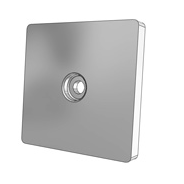 A radio-frequency identification tag (RFID tag) is an electronic tag that exchanges data with an RFID reader through radio waves.  Most tags are made up of at least two main parts – an antenna that received the radio frequency wave, and an integrated circuit that processes and stores the data. Ultra High Frequency spans the 433, 840-960 MHz and the 2.4 GHz range. EPC Class 1 Gen 2 passive read/write RFID tags are available in paper and hardened formats with varying data storage capabilities.
Diamond Technologies offers a full line of UHF RFID tags.  Tag mounting kits are also available.
AVAILABLE MODELS:
| | | |
| --- | --- | --- |
| Part Number | Product Type | Model |
| BIS00NL | Data carrier | BIS U-100-01/CA |
| BIS00RC | Data carrier | BIS U-100-02/CA |
| BIS00WC | Data carrier | BIS U-102-05/CA-HT |
| BIS00WE | Data carrier | BIS U-102-05/CA |
| BIS00WF | Data carrier | BIS U-101-04/CA-HT |
| BIS00WH | Data carrier | BIS U-101-04/CA |