UV-LASE
Product Description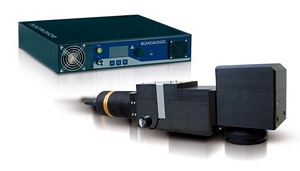 The extra cavity technology of the UV-LASE allows high efficiency conversion of the LBO nonlinear crystal.   It also allows for compactness of the laser source.
The UV-LASE combines unique features such as air cooling, standard compact design, continuous and precise power control and low power consumption with the advantages of the short UV wavelength. Performing 'so called' cold marking, the UV Lase allows damage-free marking and micro-processing on demanding materials such as glass, non–doped plastics, coatings, and others.
The UV-LASE is available both in Marking as well as in OEM configurations.
Features & Benefits
Based on the state-of-the-art V-Lase platform

Integrated advanced diagnostics
Easy connectivity

Air cooled industrial compact design for:

Highest industrial grade reliability
Long life running
Unmatched MTBF
Easy integration and maintenance

Optimized for marking and processing applications

Excellent beam quality and roundness
New RF FPK methodology for fast marking
Highly configurable customizable
AVAILABLE MODELS:
| | |
| --- | --- |
| Part Number | Description |
| 985111501 | VLASE 303A-1830 DPSS UV System 3W with F-103 TELECENTRIC |
| 985111500 | VLASE 303A-1030 DPSS UV System 3W w/out F |
| 985111600 | VLASE 303A-0000 DPSS UV Source 3W |