Anybus-S Slave and Anybus-M Master Modules
Anybus-S and Anybus-M are families of certified and proven interchangeable master/slave credit card sized interfaces.  These two product lines support over twenty Fieldbus and Industrial Ethernet networks and are designed for integration into industrial automation devices.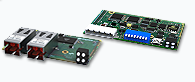 Anybus-S has been designed to fit into many types of industrial automation devices. HMI's, robot controllers, drives, micro PLC's, valve manifolds, instruments, weigh scales, temperature controllers, bar-code scanners, I/O blocks, welding controllers and RFID applications are just some of today's automation devices that are using Anybus-S for their network option interface.
Anybus-M master modules are designed for integration into industrial automation devices that need to communicate with industrial field devices via different industrial networks. Anybus-M modules have their own high performance microprocessor which handles the entire communication protocol independently of the application running in the automation device.   The Anybus M functions as a network master and network configuration software is available.
AVAILABLE MODELS:
| | | |
| --- | --- | --- |
| Part Number | Model | Description |
| AB4003 | ABS-COP | AnyBus-S CANopen |
| AB4004 | ABS-DEV | AnyBus-S DeviceNet |
| AB4005 | ABS-PDP | AnyBus-S PROFIBUS-DP |
| AB4174 | ABS-DPV1 | AnyBus-S PROFIBUS-DPV1 |
| AB4292 | ABS-IBS | AnyBus-S Interbus |
| AB4293 | ABS-IBS-FO | AnyBus-S Interbus Fiber Optic |
| AB4007 | ABS-CNT | AnyBus-S ControlNet |
| AB4173 | ABS-EIP | AnyBus-S EtherNet/IP & Modbus/TCP (1-port |
| AB4079 | ABS-LON | AnyBus-S LonWorks |
| AB4080 | ABS-MBP | AnyBus-S Modbus Plus |
| AB4219 | ABS-RTU | AnyBus-S Modbus RTU |
| AB4210 | ABS-CCL | AnyBus-S CC-Link |
| AB4218 | ABS-FIP | AnyBus-S FIPIO |
| AB4392 | ABS-PRT | AnyBus-S Profinet IO (1-port) |
| AB4474 | ABS-PIR | AnyBus-S Profinet IRT (2-port) |
| AB4455 | ABS-ECT | AnyBus-S EtherCAT |
| AB4173 | ABS-EIT | AnyBus-S Modbus-TCP (1-port) |
| AB4451 | ABS-FLN | AnyBus-S FL-Net (1-port) |
| AB4582 | ABS-EIP_2P | AnyBus-S-Ethernet/OP & Modbus-TCP (2-port) |
| 017503 | ABS-EVB | AnyBus-S Evaluation Board |
| 018000 | ABS-DLA | AnyBus-S Download Adapter |
| 016447 | ABS-PC/104 | AnyBus-S PC-104 Evaluation Carrier Board |
| 016458 | ABSTK-LON | AnyBus-S LonWorks Starter Kit (PC ISA Card) |
| 017504 | PDP-SIM | PROFIBUS-DP Master Simulator |
| 017506 | DEV-SIM | DeviceNet Master Simulator |
| 017509 | DEV-CK | DeviceNet Master Simulator Cable Kit |
| | | |
| AB5021 | ABM-DEV | AnyBus-M DeviceNet Scanner |
| AB5030 | ABM-DPV1 | AnyBus-M PROFIBUS-DPV1 Master |
| AB5023 | ABM-ASI | AnyBus-M AS-interface Master |
| AB5057 | ABM-EIP | AnyBus-M EtherNet/IP Scanner |
| 018021 | NetTool-DN | NetTool for DeviceNet |
| 018330 | NetTool-PB | NetTool for PROFIBUS |
| 018810 | comDTM-PB | PROFIBUS comDTM for FDT |