Anybus CompactCom
The CompactCom family gives your industrial devices connectivity to almost any Fieldbus or Industrial Ethernet network with one single development project.  CompactCom is available in chip, brick or module formats and covers all performance requirements.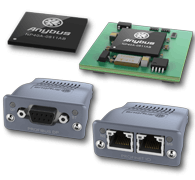 The CompactCom plug-in Module allows full network flexibility in a complete and modular solution with minimum development effort and fast time-to-market.
The CompactCom Brick is ready made and benefits applications that have limited space or where you simply want to add your choice of network connectors.
The CompactCom Chip allows you to integrate a multi-network chip solution including all software directly into your PCB design.
All of these form factors – module, brick, and chip – are available in either the CompactCom 30-series for general automation devices, or the CompactCom 40-series for demanding applications.
No matter which CompactCom series or solution format you choose, you have the full Anybus interchangeability in terms of software and hardware, keeping your development efforts to an absolute minimum.   Diamond Technologies has been building solution around the CompactCom module for over 10 years.   We have the expertise and experience to ensure your success.
AVAILABLE MODELS:
| | |
| --- | --- |
| Part Number | Description |
| AB6200 | Profibus DPV1 Active CompactCom Module |
| AB6201 | DeviceNet Active CompactCom Module |
| AB6203 | Modbus RTU Active CompactCom Module |
| AB6211 | CC-Link Active CompactCom Module |
| AB6213 | Modbus -TCP Active CompactCom Module |
| AB6214 | EtherNet/IP Active CompactCom Module |
| AB6215 | Profinet RT I/O Active CompactCom Module |
| AB6216 | EtherCAT Active CompactCom Module |
| AB6218 | CANopen Active CompactCom Module |
| AB6219 | CompoNet Active CompactCom Module |
| AB6220 | ControlNet Active CompactCom Module |
| AB6221 | Profinet RT I/O (2-Port) Active CompactCom Module |
| AB6222 | Sercos III Active CompactCom Module |
| AB6223 | Modbus-TCP (2-Port) Active CompactCom Module |
| AB6224 | EtherNet/IP (2-Port) Active CompactCom Module |
| AB6225 | Profibus DPV0 Active CompactCom Module |
| AB6226 | BACnet MSTP Active CompactCom Module |
| AB6227 | BACnet IP (2-Port) Active CompactCom Module |
| AB6300 | Profibus DPV1 Active CompactCom Module without Housing |
| AB6301 | DeviceNet Active CompactCom Module without Housing |
| AB6303 | Modbus RTU Active CompactCom Module without Housing |
| AB6311 | CC-Link Active CompactCom Module without Housing |
| AB6313 | Modbus -TCP Active CompactCom Module without Housing |
| AB6314 | EtherNet/IP Active CompactCom Module without Housing |
| AB6315 | Profinet RT I/O Active CompactCom Module without Housing |
| AB6316 | EtherCAT Active CompactCom Module without Housing |
| AB6318 | CANopen Active CompactCom Module without Housing |
| AB6319 | CompoNet Active CompactCom Module without Housing |
| AB6320 | ControlNet Active CompactCom Module without Housing |
| AB6321 | Profinet RT I/O (2-Port) Active CompactCom Module without Housing |
| AB6322 | Sercos III Active CompactCom Module without Housing |
| AB6323 | Modbus-TCP (2-Port) Active CompactCom Module without Housing |
| AB6324 | EtherNet/IP (2-Port) Active CompactCom Module without Housing |
| AB6325 | Profibus DPV0 Active CompactCom Module without Housing |
| AB6326 | BACnet MSTP Active CompactCom Module without Housing |
| AB6327 | BACnet IP (2-Port) Active CompactCom Module without Housing |
| AB6270 | Profibus DPV1 Drive Profile Module |
| AB6271 | DeviceNet Drive Profile Module |
| AB6272 | CANopen Drive Profile Module |
| AB6273 | CC-Link Drive Profile Module |
| AB6274 | EtherNet/IP Drive Profile Module |
| AB6370 | Profibus DPV1 Drive Profile Module without Housing |
| AB6371 | DeviceNet Drive Profile Module without Housing |
| AB6372 | CANopen Drive Profile Module without Housing |
| AB6373 | CC-Link Drive Profile Module without Housing |
| AB6374 | EtherNet/IP Drive Profile Module without Housing |
| AB6207 | RS-232 Passive CompactCom Module |
| AB6208 | RS-422/485 Passive CompactCom Module |
| AB6209 | USB Passive CompactCom Module |
| AB6212 | Bluetooth Passive CompactCom Module |
| AB6307 | RS-232 Passive CompactCom Module without Housing |
| AB6308 | RS-422/485 Passive CompactCom Module without Housing |
| AB6309 | USB Passive CompactCom Module without Housing |
| AB6312 | Bluetooth Passive CompactCom Module without Housing |
| 018581 | CompactCom Starter Kit |
| 018580 | CompactCom Starter Kit (w/o ABCC) |
| 018730 | CompactCom Slot Cover (500-pack) |
| 019180 | CompactCom Mounting Kit (100-pack) |
| SP1137 | Host Connector (100-pack) |