DataVS1 Vision Sensor
The Datalogic DataVS1 vision sensor series is the easiest solution for machine vision applications. The setup does not require a PC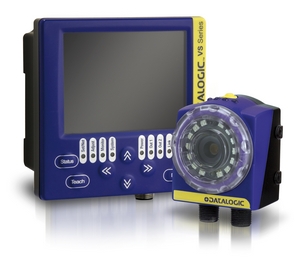 and it is very quick and intuitive thanks to the VSC external configurator with 3.5″ color display. The sensor set-up is carried-out through three simple steps: region of interest definition, control type selection and parameter adjustments. DataVS1 is able to carry-out many different kinds of inspections such as presence/absence verification, position, object counting and OCV.
Features & Benefits
The vision sensor can be easily configured through the VSC monitor without the need of a PC.
The DataVS1 compact dimensions allow it to be installed in extremely narrow spaces.
The VGA resolution guarantees high quality images thus allowing the inspection of the smallest details.
The wide range of tools allows one model to solve many different inspections.
Applications
Part presence verification
Object counting
Gauging
Quality inspection
Optical character verification (OCV)
Available Models
| | |
| --- | --- |
| DataVS1 Series | |
| 959941000 | DataVS1-08-DC-K vision sensor 8mm lens VSCconfigurator DataVS-VSC conn.C |
| 959941010 | DataVS1-06-DC-S Vision sensor, 6mm lens, configurator connection |
| 959941020 | DataVS1-08-DC-S Vision sensor, 8mm lens, configurator connection |
| 959941030 | DataVS1-12-DC-S Vision sensor, 12mm lens, configurator connection |
| 959941050 | DataVS1-16-DC-S Vision sensor, 16mm lens, configurator connection |
| Accessories, DataVS-Series | |
| VSC Remote Configurator for DataVS1 | |
| 959941040 | DataVS1-VSC vision sensor configurator |
| DataVS, Power & I/O Cables | |
| 95A255430 | Cable, PWR & I/O, DataVS, CV-A1-36-B-03 8 pin shielded cable 3 Meter |
| 95A255440 | Cable, PWR & I/O, DataVS, CV-A1-36-B-05 8 pin shielded cable 5 Meter |
| 95A255450 | Cable, PWR & I/O, DataVS, CV-A1-36-B-10 8 pin shielded cable 10 Meter |
| DataVS2 / VSM, Ethernet Cables | |
| 95A901340 | Cable, Ethernet, DataVS2, DataVS-CV-RJ45C-03 ethernet cable 3m crossed |
| 95A901350 | Cable, Ethernet, DataVS2, DataVS-CV-RJ45D-03 ethernet cable 3m straight |
| VSM Monitor, Power Cables | |
| 95A252790 | Cable, PWR, VSM, CV-A1-32-B-03 M12 4pin shielded cable 3 Meter |
| 95A252800 | Cable, PWR, VSM, CV-A1-32-B-05 M12 4pin shielded cable 5 Meter |
| DataVS2 to VSM Monitor Cables | |
| 95A901700 | Cable, DataVS-CV-VSM-02 connection cable 2 Meter |
| 95A901710 | Cable, DataVS-CV-VSM-04 connection cable 4 Meter |
| DataVS, Mounting Brackets | |
| 95A901320 | DATAVS-ST-5068 L-shaped mounting bracket for 90° mounting |
| 95A901330 | DATAVS-ST-5066 U-shaped mounting bracket for angle adjustment |
| 95A901380 | DataVS-MK-01 mounting kit |
| DataVS1, Updating kit | |
| 95A901540 | DataVS1 UPDATING KIT DataVS1 Updating Kit |