RFD5000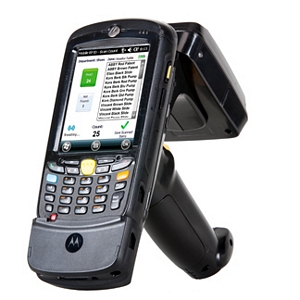 The versatile RFD5500 UHF RFID Sled transforms your Motorola MC55, MC65 or MC67 mobile computer into a state-of-the-art RFID handheld reader. Its patented omni-directional antenna delivers a superior read range and coverage area, well suited to the most read-intensive applications. You get faster read rates, higher throughput, and improved productivity in your operation.
With its lightweight, rugged design and well-balanced, gun-style grip, the RFD5500 is easy to use. Workers can quickly and accurately capture RFID data on even the most challenging items.  A unique combination of audible and visual cues intuitively guides the user to its precise location, saving time and labor. Your workers can be more productive and your operation more profitable.
The RFD5500 adds state-of-the-art RFID functionality to the bar code scanning capability already available in your mobile computer. Bundling two best-in-class data capture technologies in one accessory means you have fewer devices to purchase and manage, creating cost savings for your organization.
Key Features
Business-class RFID handheld for global
Motorola RFID reader engine for high efficiency read performance
Easy-to-use Application Programming Interfaces (APIs)
MAX RFID patented orientation insensitive antenna
MAX Secure for secure data transmissions in highly sensitive applications
AVAILABLE MODELS:
| | |
| --- | --- |
| Part Number | Product |
| RFD5500-GZ21US | Motorola RFD5500, UHF RFID Snap-on for MC55, MC65 and MC67.  Requires WM 6.5 OS. |