BIS V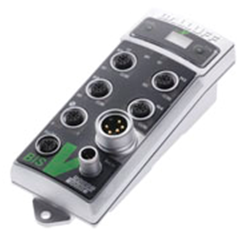 Quick, contact-free data communication is significantly more efficient with the BIS V industrial RFID system. Only the BIS V system has an integrated IO-Link master and four antenna channels that can be configured separately and enable the connection of up to four read/write heads. The BIS V system ensures faster data transmission, short cycle times, and high date security in HF and LF applications.
Features:
Easy handling – The high performance BIS V offers maximum convenience. Display and status LEDs support ease of use. And through its USB service interface, standard hardware is easy to attach. All connections are easily accessible and completely pluggable.
Easy assembly – The compact, EMC-protected metal housing measures just 170 x 60 x 40 mm, can be perfectly integrated, and is easy to assembly. In control cabinets or in the field up to IP 67.
 Applications:
Identification of material flow control in industrial production
Rail-borne conveyor systems in machine construction
Assembly and subassembly lines in the automotive and electrical equipment industries
Electrified monorail systems
Intra-logistics
 Benefits:
Powerful and cost-effective: just one processor for four read/write heads
Integrated IO-Link master simplifies network topology
Convenient status LEDs and display
Easy to use: pluggable connections and USB service interface
Easy to integrate, compact design
Easy to assemble
Profibus connection as established means of industrial communication
HF function for ISO 14443 and ISO 15693 with automatic detection
AVAILABLE MODELS:
Processors:
| | | |
| --- | --- | --- |
| Part Number | Product Type | Model |
| BIS00T3 | Processor | BIS V-6102-019-C001 |
| BIS00U9 | Processor | BIS V-6110-063-C002 |
Read/Write Heads:
| | | |
| --- | --- | --- |
| Part Number | Product Type | Model |
| BIS00RF | Read/write head | BIS VM-300-001-S4 |
| BIS00T0 | Read/write head | BIS VM-301-001-S4 |
| BIS00T2 | Read/write head | BIS VM-351-001-S4 |
| BIS00T6 | Read/write head | BIS VM-352-001-S4 |
| BIS00T7 | Read/write head | BIS VM-306-001-S4 |
| BIS00T8 | Read/write head | BIS VM-307-001-S4 |
| BIS00T9 | Read/write head | BIS VM-305-001-S4 |
| BIS00TA | Read/write head | BIS VM-341-001-S4 |