M2M PC Gateways
Take control of your remote equipment installations with a PC gateway for machine-to-machine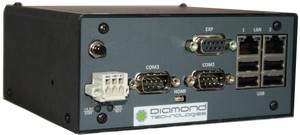 (M2M) communication from Diamond Technologies.
With one of our communication gateways installed in your equipment, you can have real-time access to performance and maintenance data of your remote machinery, allowing you to keep tabs on your geographically dispersed systems without the high costs of frequent service trips.
M2M communication enables your equipment with many new capabilities including:
remote service
predictive maintenance
usage-based billing
compliance management
warranty management
consumables management
Our DT9000 PC gateway gives you the fastest way to add remote connectivity to your PLC-based equipment.  With its rugged design in a compact, fully-enclosed, DIN-rail-mountable housing it is easily embedded into your industrial machines.  Optimized for rapid integration to machine-to-machine (M2M) applications, it supports all leading PLCs including serial and Ethernet connection schemes.
With 2 Ethernet ports available, the gateway can support independent Ethernet infrastructures. The serial port allows traditional PLCs to be connected both to the web and your M2M platform. In addition to standard LAN communication, the gateway's support for cellular and Wi-Fi options and its ability to run either Linux or Windows make the DT9000 a flexible platform that can be deployed in nearly any application.
The DT9000 is compatible with the Axeda Machine Cloud™ data hosting and remote management service, providing you with secure, scalable on-line access to your machine information.  Analyze your data, monitor trends and set notification thresholds using web-based applications – no software to install or manage.  Remote programming of your PLCs, without the need for a VPN, makes this an ideal solution for industrial OEMs.