DTWG for KOHLER DEC 550/6000 Generator Controllers
Product Description
The DTWG for KOHLER® DEC 550/6000 Gene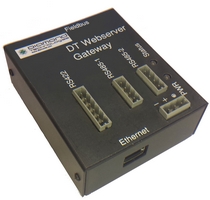 rator Controllers is an intelligent webserver and communications gateway for remote monitoring and control of the KOHLER DEC 550 and DEC 6000 generator controllers.  The gateway provides various features including web based graphical display of key generator data, display of critical maintenance data, visual indication of critical alarms, status indication of relay driver outputs (RDO's), Real Time tr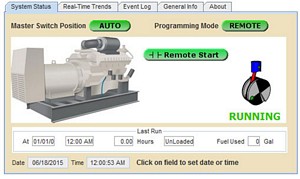 ending, 30 day Historical data collection, Email notifications, and built in FTP server.  Support for standard browsers such as Chrome, IE, or Firefox allow the DTWG to provide managerial and service personnel with key data allowing them to make more intelligent, timely, decisions.
Along with data display and indication the DTWG provides various Generator Configuration and Control capabilities including the ability to start and abort timed generator runs, E-Stop of Generator, and Remote fault reset.  The DTWG supports password configuration, network configuration, and user/location information is also configurable.
A Unique Pass Through feature allows industrial equipment connected to the DTWG to be accessed by multiple devices at the same time.  This allows KOHLER Remote annuciators, SCADA Systems, and building automation systems to easily access the KOHLER Generator controller simultaneously with web based data access.
Features & Benefits
Display of real time generator electrical data
Display of real time generator engine data
Display of critical maintenance data
Visual indication of critical alarms
Status indication of Relay Driver Outputs (RDOs)
Real time trending
Display of event history
Display of controller system status
System password protection
Ability to start and abort timed generator run
Ability to E-Stop generators
Ability to remotely reset faults
Configurable display and modification of other controller parameters
Configurable email alerts on alarm conditions
Ethernet Modbus TCP/IP and Modbus RTU Pass-Through
NEMA industrial metal enclosure
UL508
Available  Models and Accessories:
| | | |
| --- | --- | --- |
| Part Number | | Description |
| DT7000WG-KH-100 | | Embedded WebServer Gateway for KOHLER DEC 550/6000 generator controllers |
| | | |
| Accessories | | Description |
| DTWG-ENC-100 | | DTWG NEMA 12 industrial wall mount enclosure, w/ latching door w/ keylock, DIN-Rail backpanel, circuit breaker, AC to DC 2.5A power supply, cord grips |
| | | |
*KOHLER and Decision-Maker are trademarks of the Kohler Corporation.