EC250 Netbiter Gateway
Netbiter EasyConnect EC250 is a connectivity gateway that handles communication with field applications and supports upstream connection to the Netbiter Argos server over both GPRS and Ethernet communication networks.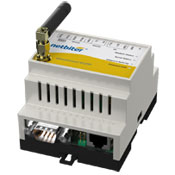 An important key feature supported by the Netbiter EC250 is the fail-over function, which automatically switches over the communication link to the Netbiter Argos server to GPRS in case the Ethernet connection fails.
The Netbiter EasyConnect series are used together with the Netbiter Argos data center to make remote monitoring and control solutions easy to install, configure and maintain.
AVAILABLE MODELS:
| | | |
| --- | --- | --- |
| Part Number | Model Number | Description |
| NB1003 | EC250 | Netbiter EasyConnect EC250 Plastic Housing |
| NB2003 | EC250-SK | Netbiter EasyConnect EC250 Plastic Housing Starter Kit |