EC150 Netbiter Gateway
The Netbiter EasyConnect EC150 is a small remote gateway that connects any Modbus device with the Netbiter Argos server over Ethernet.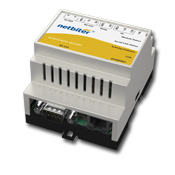 The unit is designed to remotely monitor and control Modbus devices and networks. The Netbiter EasyConnect series is also easily configured, monitored and controlled through the Argos website.
AVAILABLE MODELS:
| | | |
| --- | --- | --- |
| Part Number | Model Number | Description |
| NB1001 | EC150 | Netbiter EasyConnect EC150 Standard Housing |