857 JumpFlex Transducer Modules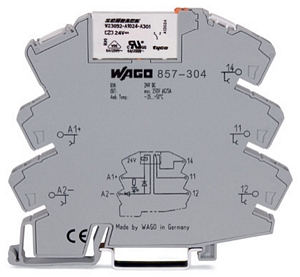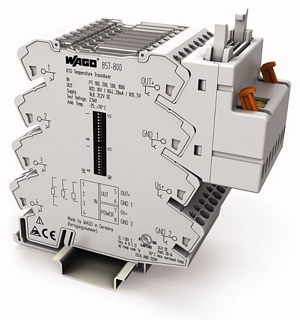 Our 857 JUMPFLEX® signal conditioners offer conversion, isolation, and transmission of many different signal types…and in the industry's smallest 6mm wide package.
The 857 series can be simply configured via rear mounted toggle switches and new additions to the JUMPFLEX® signal conditioners offer dedicated input and output signal types at a reduced price. If a customer doesn't require the flexibility that a configurable signal conditioner offers.(Fragment)
The expanding line of JUMPFLEX® signal conditioners provide safe operation with 2.5kV three-way isolation, maintenance free wiring with CAGE CLAMP®S technology, as well as an extended temperature range. Available models include a very broad range of Voltage to Current and Current to Voltage translation.
AVAILABLE MODELS:
| | |
| --- | --- |
| Part Number | Description |
| 857-400 | SIGNALCONDITIONER-ISOLATIONAMPLIFIER |
| 857-401 | ISOALTION AMPLIFIER,   CONFIGURABLE |
| 857-402 | Universal Signal Conditioner |
| 857-409 | SIGNAL CONDITIONER-BIPOLAR |
| 857-411 | SIGNALCONDITIONER(0)4..2mA-(0)4.20mA |
| 857-412 | SIGNAL   CONDITIONER-(0)2..10V-(0)2.1V |
| 857-413 | Signal Conditioner – 0-10V to   0-20mA |
| 857-414 | Signal Conditioner – 0-10V to   4-20mA |
| 857-415 | Signal Conditioner – 0-20mA to   0-10V |
| 857-416 | Signal Conditioner – 4-20mA to   0-10V |
| 857-420 | SIGNALCONDITIONER-CONFIG.PS   REPEATER |
| 857-421 | SIGNAL CONDITIONER-HART P.S.REPEATER |
| 857-423 | SIGNALCONDITIONER-CONFIGURA.SPLITTER |
| 857-450 | SIGNAL CONDITIONER – LOOP   POWERED |
| 857-451 | SIGNALCONDITIONER-1CHAN,LOOP   POWERED |
| 857-452 | SIGNALCONDITIONER-2CHAN,LOOP   POWERED |
| 857-531 | JUMPFLEX® TRANSDUCER LIMIT   SWITCH |
| 857-552 | ROGOWSKI CURRENT SIGNAL   CONDITIONER |