859 and 857 Series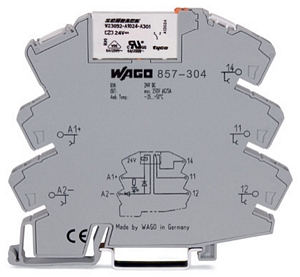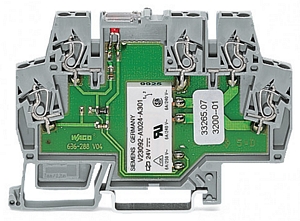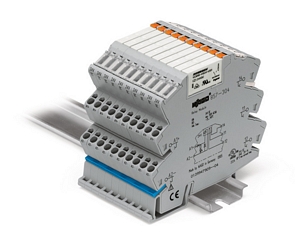 The 859 and 857 are some of our newest Relay and Optocoupler modules. The 859 series is a terminal block line of relay and optocoupler modules.  The relays and optocouplers are embedded into the terminal blocks, providing a DIN rail based relay/optocoupler in a 6mm wide housing. This reduced size housing saves panel space. The 857 provides the same 6mm wide DIN rail mountable module with a removable relay/optocoupler.  This allows for fast field replacement.
Modules are available to meet a wide range of technical requirements including:
5 – 230 VDC
12 – 230 VAC
50mA – 5A continuous current
Wide range or module functions
The modules can be easily connected together and jumpered using a full line of single piece plug-in style jumpers.  The modules also utilize our cage clamp connection system for trouble free electrical connections, faster wiring, and elimination of the need for wire tightening.
AVAILABLE MODELS:
| | |
| --- | --- |
| Part Number | Description |
| 857-102 | RELAY BASE ONLY FOR 5V AC/DC |
| 857-103 | RELAY BASE ONLY FOR 12V AC/DC |
| 857-104 | RELAY BASE ONLY FOR 24V DC |
| 857-107 | RELAY BASE ONLY FOR 115V AC/DC |
| 857-108 | RELAY BASE ONLY FOR 230V AC/DC |
| 857-152 | RELAY 5MM 24VDC 1CO |
| 857-153 | RELAY 5MM 24VDC 1CO AU |
| 857-155 | PLUGGABLE MINI RELAY SWITCH DC   60V |
| 857-157 | PLUGGABLE MINI RELAY SWITCH DC   60V |
| 857-161 | SOLID STATE RELAY 24VDC   2A,OPTOCOUPL |
| 857-162 | SOLID STATE RELAYS 60VDC   2A,OPTOCOUP |
| 857-164 | SOLID STATE RELAYS 24VDC   100mA,OPTOC |
| 857-165 | SOLID STATE RELAYS 60VDC   100mA,OPTOC |
| 857-167 | SOLID STATE RELAYS 24VDC   1A,OPTOCOUP |
| 857-168 | SOLID STATE RELAYS 60VDC   1A.OPTOCOUP |
| 857-303 | ELECTRICAL TRM BLK DC 12V, 10MA |
| 857-304/PW25-000 | RELAY 24V DC, 6A/250V BULK BUY |
| 857-304 | RELAY 24V DC, 6A/250V |
| 857-305 | ELECTRICAL TRM BLK DC 6mm/12VCD   IU |
| 857-306 | ELECTRICAL TRM BLK DC 6MM/60VDC   1U |
| 857-307 | MINI SWITCH RELAY TRM BLK   110VDC/1U |
| 857-308 | MINI SWITCH RELAY TRM BLK   220VDC/1U |
| 857-314 | ELEC TRM BLK W/MINI SWITCH   RELAY GRY |
| 857-317 | ELECTRICAL TRM BLK W/RELAY |
| 857-318 | RELAY SWITCH .6MM/220VDC 1U   5MYAU |
| 857-353 |  ELECTRICAL TRM BLK UC 12V, 8mA |
| 857-354 | ELECTRICAL TRM BLK UC 24V, 8mA |
| 857-357 | RELAY 120V AC, 6A/250V |
| 857-357/PW25-000 | RELAY 120V AC, 6A/250V BULK BUY |
| 857-358 | ELECTRICAL TRM BLK UC 230V,   3.5mA |
| 857-364 | TRM BLK.W/MINI SWITCH RELAY   6MM/240C |
| 857-367 | ELECTRONIC TRM BLK W/MINI RELAY   GRAY |
| 857-368 | ELECTRONIC TRM BLK W/MINI RELAY   GRAY |
| 857-704 | SS RELAY-24VDCin;0.1A/48V DC   OUT |
| 857-707 | SS RELAY-115VAC/DCin;0.1A/48V   DC OUT |
| 857-708 | SS RELAY-230VAC/DCin;0.1A/48V   DC OUT |
| 857-714 | SS RELAY-24VDCin;1A/230V AC OUT |
| 857-717 | SS RELAY-115V AC/DCin;1A/230V   AC OUT |
| 857-718 | SS RELAY-230V AC/DCin;1A/230V   AC OUT |
| 857-724 | SS RELAY-24VDCin;2A/24V DC OUT |
| 857-727 | SS RELAY-115 AC/DCin;2A/24V DC   OUT |
| 857-728 | SS RELAY-230V AC/DCin;2A/24V DC   OUT |
| 859-110 | 6MM TB MOUNT GREY |
| 859-302 | RELAY TRM BLK 5VDC |
| 859-303 | RELAY TRM BLK 12VDC |
| 859-304 | RELAY TERM. BLOCK, 24VDC |
| 859-305 | RELAY TRM BLK 48VDC 1U |
| 859-306 | RELAY TRM BLK 60VDC 1U |
| 859-307 | RELAY TRM BLK 115VDC 1U |
| 859-308 | RELAY TRM BLK 220VDC 1U |
| 859-314 | RELAY TRM BLK 24VDC 1U W/AU |
| 859-317 | RELAY TRM BLK 115VDC 1U W/AU |
| 859-318 | RELAY, 220VDC, 1 CHANGEOVER |
| 859-353 | RELAY CLAMP 12VAC/DC 1U |
| 859-354 | RELAY TRM BLK 24VAC/DC 1U |
| 859-355 | RELAY TRM BLK 48VAC/DC 1U |
| 859-357 | RELAY TRM BLK 120 VAC |
| 859-358 | RELAY TRM BLK 230VAC 1U |
| 859-359 | RELAY TRM BLK 230VAC 1U W/AU |
| 859-360 | RELAY TRM BLK 115 VAC W/ AU   FLASH |
| 859-367 | RELAY, 115VAC, 1 CHANGEOVER |
| 859-368 | RELAY TRM BLK 230VAC 1U W/SCHA |
| 859-384 | SWITCHING RELAY CENTER   MARK/1U/48VDC |
| 859-385 | RELAY TRM BLK 110VDC |
| 859-391 | RELAY TRM BLK 115VDC +/-30% 1U   3A |
| 859-392 | RELAY TRM BLK 16.8-30VDC 1U   5MYAU |
| 859-393 | RELAY TRM BLK 72VDC 1U 3A BAHN |
| 859-398 | RELAY 1CHANGEOVER, 24VDC,   +/-40% INA |
| 859-399 | RELAY 1CHANGEOVER,110VDC,+/-40%   1U3A |