Overvoltage Protection 792, 280, 870, 286 Series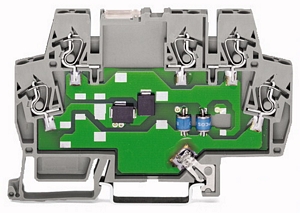 The 792, 280, 870, and 286 series of voltage protection products protect electrical panel and industrial equipment from damage due to electrical surge.   These products are terminal blocks with internal circuitry.  The products are designed to meet varying degrees of protection and utilize varistor and suppression diode technology.
The modules all include easy cage clamp wiring for reliable, shock and vibration proof connections.
AVAILABLE MODELS:
| | |
| --- | --- |
| Part Number | Description |
| 280-502/281-582 | TRM BLK W/ VARISTOR |
| 280-502/281-584 | TRM BLK W/ VARISTOR |
| 280-502/281-584 | TRM BLK W/ VARISTOR |
| 280-502/281-585 | TRM BLK W/ VARISTOR |
| 280-502/281-585 | TRM BLK W/ VARISTOR |
| 280-502/281-587 | TRM BLK W/ VARISTOR |
| 280-502/281-588 | TRM BLK W/ VARISTOR |
| 280-502/281-589 | TRM BLK W/ SUPPRESSOR DIODE |
| 280-502/281-591 | TRM BLK W/ SUPPRESSOR DIODE |
| 280-502/281-592 | TRM BLK W/ SUPPRESSOR DIODE |
| 280-502/281-593 | TRM BLK W/ SUPPRESSOR DIODE |
| 280-502/281-594 | TRM BLK W/ SUPPRESSOR DIODE |
| 280-502/281-602 | 24V DC SUPPRESSOR DIODE |
| 280-502/281-603 | 48V DC SUPPRESSOR DIODE |
| 280-502/281-604 | 60V DC SUPPRESSOR DIODE |
| 280-502/281-605 | 115V DC SUPPRESSOR DIODE |
| 280-502/281-608 | 230V AC SUPPRESSOR DIODE |
| 280-502/281-609 | 24V DC VARISTOR |
| 280-502/281-612 | 115V DC VARISTOR |
| 280-502/281-613 | 24V AC VARISTOR |
| 280-502/281-614 | 110/120V AC VARISTOR |
| 280-503/281-579 | TRM BLK W/ GAS-FILLED SURGE ARRESTOR |
| 280-503/281-580 | TRM BLK W/ GAS-FILLED SURGE ARRESTOR |
| 280-503/281-581 | TRM BLK W/ GAS-FILLED SURGE ARRESTOR |
| 280-504/281-617 | DBL DECK TRM BLK W/VARISTORS |
| 286-831 | 24V AC/DC 2 STAGE 3 WIRE SPD MODULE |
| 286-832 | 24V AC/DC 2STAGE 3WIRE FINE SPD MOD |
| 286-834 | MOD VER 286-832 12VOLT |
| 286-834/024-000 | DATA LINE SUPPRESSION MODULE 24VDC |
| 286-836 | 24V AC/DC 1 STAGE 3 WIRE |
| 286-837 | 230VAC 1STAGE 3WIRE SPD MOD AUD ALRM |
| 286-841 | 240VAC 2 STAGE 3 WIRE SPD MODULE |
| 286-842 | 230VDC 2 STAGE 3 WIRE SPD MODULE |
| 286-843 | 120VAC 2 STAGE 3 WIRE SPD MODULE |
| 286-844 | 115VDC 2 STAGE 3 WIRE SPD MODULE |
| 792-800 | Overvoltage TB 24V DC |
| 792-801 | Overvoltage TB 24V DC |
| 792-804 | Overvoltage TB 24V DC |