PC Network Master Cards
Diamond Technologies carries the full line of Hilscher's CIF and CIFX PC cards, which provide reliable communication for PC-based automation.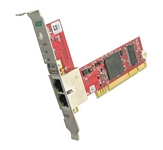 Well-proven and reliable CIF cards from Hilscher have successfully been used in different applications and have established themselves as a standard in the market. The next generation of PC cards, the CIFX, supports traditional Fieldbus as well as all established Real-Time-Ethernet systems.
All CIFX are based on the high sophisticated network controller netX100, which covers all network specific requirements. It only differs in the physical interface of the corresponding Fieldbus or Real-Time-Ethernet system.
Data exchange between the application and PC card is selectively done via a defined Dual-Port-Memory or via DMA. The FDT/DTM-based tool offers an easy configuration of all Hilscher products with a plausible graphical user interface. A diagnostic interface with status LED displays operation status of the board and communication activity on the network interface.
A variety of PC card solutions are available, including:
PC/104
PC/104+
PCI
PCI 104
PCI Express
Low Profile PCI Express
Compact PCI
PCMCIA
Mini PCI
Mini PCI Express
PMC
AVAILABLE MODELS:
| | |
| --- | --- |
| Part Number | Description |
| CIF 104 | Communication Interface PC/104 |
| CIF 104-ASIM | Communication Interface PC/104 AS-Interface-Master |
| CIF 104-CCS | Communication Interface PC/104 CC-Link-Slave |
| CIF 104-COM | Communication Interface PC/104 CANopen-Master |
| CIF 104-COM-R | Communication Interface PC/104 CANopen-Master, connector right |
| CIF 104-COS | Communication Interface PC/104 CANopen-Slave |
| CIF 104-COS-R | Communication Interface PC/104 CANopen-Slave, connector right |
| CIF 104-DNM | Communication Interface PC/104 DeviceNet-Master |
| CIF 104-DNM-R | Communication Interface PC/104 DeviceNet-Master, connector right |
| CIF 104-DNS | Communication Interface PC/104 DeviceNet-Slave |
| CIF 104-DNS-R | Communication Interface PC/104 DeviceNet-Slave, connector right |
| CIF 104-DPS | Communication Interface PC/104 PROFIBUS-DP-Slave |
| CIF 104-DPS-R | Communication Interface PC/104 PROFIBUS-DP Slave, connector right |
| CIF 104-IBS | Communication Interface PC/104 InterBus-Slave |
| CIF 104-IBS-R | Communication Interface PC/104 InterBus-Slave, connector right |
| CIF 104-PB | Communication Interface PC/104 PROFIBUS-DP/FMS-Master |
| CIF 104-PB-R | Communication Interface PC/104 PROFIBUS-DP/FMS-Master, connector right |
| CIF 104P-COM | Communication Interface PC/104Plus CANopen-Master |
| CIF 104P-COS | Communication Interface PC/104Plus CANopen-Slave |
| CIF 104P-DNM | Communication Interface PC/104Plus DeviceNet-Master |
| CIF 104P-DNS | Communication Interface PC/104Plus DeviceNet-Slave |
| CIF 104P-PB | Communication Interface PC/104 PROFIBUS-DP/FMS-Master |
| CIF 104-PS | Communication Interface PC/104 changeover |
| CIF 50 | Communication Interface PCI 2xRS232/RS422/RS485 |
| CIF 50-ASIM | Communication Interface PCI AS-Interface-Master |
| CIF 50-CCS | Communication Interface PCI CC-Link-Slave |
| CIF 50-COM | Communication Interface PCI CANopen-Master |
| CIF 50-COS | Communication Interface PCI CANopen-Slave |
| CIF 50-DNM | Communication Interface PCI DeviceNet-Master |
| CIF 50-DNS | Communication Interface PCI DeviceNet-Slave |
| CIF 50-DPS | PROFIBUS-DP-Slave Communication Interface PCI |
| CIF 50-IBS | Communication Interface PCI InterBus-Slave |
| CIF 50-PB | Communication Interface PCI PROFIBUS-DP/FMS-Master |
| CIF 60-COM | Communication Interface PCMCIA CANopen-Master |
| CIF 60-COS | Communication Interface PCMCIA CANopen-Slave |
| CIF 60-DNM | Communication Interface PCMCIA DeviceNet-Master |
| CIF 60-DNS | Communication Interface PCMCIA DeviceNet-Slave |
| CIF 60-DPS | Communication Interface PCMCIA PROFIBUS-DP-Slave |
| CIF 60-PB | Communication Interface PCMCIA PROFIBUS-DP/FMS-Master |
| CIF 80-COM | Communication Interface Compact PCI CANopen-Master |
| CIF 80-COS | Communication Interface Compact PCI CANopen-Slave |
| CIF 80-DNM | Communication Interface Compact PCI DeviceNet-Master |
| CIF 80-DNS | Communication Interface Compact PCI DeviceNet-Slave |
| CIF 80-DPS | Communication Interface Compact PCI PROFIBUS-Slave |
| CIF 80-PB | Communication Interface Compact PCI PROFIBUS-DP/FMS-Master |
| CIFX 104C-CO | PCI/104 CANopen |
| CIFX 104C-CO(M/S) | PCI-104 Communication Interface netX for CANopen – SubD Connector male 9-pin |
| CIFX 104C-CO\F | PCI/104 CANopen incl. AIFX-DP |
| CIFX 104C-CO-R | PCI/104 CANopen |
| CIFX 104C-CO-R\F | PCI/104 CANopen incl. AIFX-DP |
| CIFX 104C-DN | PCI/104 DeviceNet |
| CIFX 104C-DN(M/S) | PCI-104 Communication Interface netX for DeviceNet – COMBICON 5-pin |
| CIFX 104C-DN\F | PCI/104 DeviceNet incl. AIFX-DP |
| CIFX 104C-DN-R | PCI/104 DeviceNet |
| CIFX 104C-DN-R\F | PCI/104 DeviceNet incl. AIFX-DP |
| CIFX 104C-DP | PCI/104 PROFIBUS-DP |
| CIFX 104C-DP(M/S) | PCI-104 Communication Interface netX for PROFIBUS – SubD Connector female 9-pin |
| CIFX 104C-DP\F | PCI/104 PROFIBUS-DP incl. AIFX-DP |
| CIFX 104C-DP-R | PCI/104 PROFIBUS-DP |
| CIFX 104C-DP-R\F | PCI/104 PROFIBUS-DP incl. AIFX-DP |
| CIFX 104-CO | PC/104 CANopen |
| CIFX 104-CO(M/S) | PC-104 Communication Interface netX for CANopen -SubD Connector male 9-pin |
| CIFX 104-CO\F | PC/104 CANopen |
| CIFX 104-CO-R | PC/104 CANopen |
| CIFX 104-CO-R\F | PC/104 CANopen |
| CIFX 104C-RE | PCI/104 Real-Time-Ethernet |
| CIFX 104C-RE\F | PCI/104 Real-Time-Ethernet |
| CIFX 104C-RE-R | PCI/104 Real-Time-Ethernet |
| CIFX 104C-RE-R\F | PCI/104 Real-Time-Ethernet incl. AIFX-DP |
| CIFX 104-DN | PC/104 DeviceNet |
| CIFX 104-DN(M/S) | PC-104 Communication Interface netX for DeviceNet – COMBICON 5-pin |
| CIFX 104-DN\F | PC/104 DeviceNet |
| CIFX 104-DN-R | PC/104 DeviceNet |
| CIFX 104-DN-R\F | PC/104 DeviceNet |
| CIFX 104-DP | PC/104 PROFIBUS-DP |
| CIFX 104-DP(M/S) | PC-104 Communication Interface netX for PROFIBUS – SubD Connector female 9-pin |
| CIFX 104-DP\F | PC/104 PROFIBUS-DP |
| CIFX 104-DP-R | PC/104 PROFIBUS-DP |
| CIFX 104-DP-R\F | PC/104 PROFIBUS-DP |
| CIFX 104-RE | Communication Interface PC/104 Real-Time-Ethernet |
| CIFX 104-RE\F | PC/104 Real-Time-Ethernet |
| CIFX 104-RE-R\F | PC/104 Real-Time-Ethernet |
| CIFX 50-2AS(M) | PCI Communication Interface netX for AS-Interface – COMBICON 2-pin |
| CIFX 50-2DP | PCI-express Interface for Dual-channel Profibus-DP |
| CIFX 50-2DP(M/S) | PCI Communication Interface netX for PROFIBUS – 2*SubD female Connector 9-pin |
| CIFX 50-CC | PCI Interface for CC-link |
| CIFX 50-CC(S) | PCI Communication Interface netX for CC-Link – COMBICON 5-pin |
| CIFX 50-CO | PCI Interface for CANopen |
| CIFX 50-CO(M/S) | PCI Communication Interface netX for CANopen – SubD connector 9-pin |
| CIFX 50-CP(S) | PCI Communication Interface netX for CompoNet – Open-Jack 4 pin |
| CIFX 50-DN | PCI Interface for DeviceNet |
| CIFX 50-DN(M/S) | PCI Communication Interface netX for DeviceNet – COMBICON 5-pin |
| CIFX 50-DP | PCI Interface for Profibus-DP |
| CIFX 50-DP(M/S) | PCI Communication Interface netX für PROFIBUS SubD 9-pin connector |
| CIFX 50E-2AS(M) | PCI Express Communication Interface netX for AS-Interface – COMBICON 2 pin |
| CIFX 50E-2ASM | PCI Express 2xASinterface |
| CIFX 50E-CC | PCI-express Interface for CC-link |
| CIFX 50E-CC(S) | PCI Express Communication Interface netX for CC-Link – COMBICON 5-pin |
| CIFX 50E-CO | PCI-express Interface for CANopen |
| CIFX 50E-CO(M/S) | PCI Express Communication Interface netX for CANopen – SubD Connector 9pin |
| CIFX 50E-CP(S) | PCI Express Communication Interface netX for CompoNet – Open-Jack 4 pin |
| CIFX 50E-DN | PCI-express Interface for DeviceNet |
| CIFX 50E-DN(M/S) | PCI Express Communication Interface netX for DeviceNet – COMBICON 5-pin |
| CIFX 50E-DP | PCI-express Interface for Profibus-DP |
| CIFX 50E-DP(M/S) | PCI Express Communication Interface netX for PROFIBUS – SubD Connector 9pin |
| CIFX 50E-RE | PCI-express Interface for Real-time Ethernet |
| CIFX 50E-RE | Communication Interface PCI Express Real-Time-Ethernet |
| CIFX 50-RE | PCI Interface for Real-time Ethernet |
| CIFX 50-RE | Communication Interface PCI Real-Time-Ethernet |
| CIFX 50-RE\Denso | PCI Interface for Real-time Ethernet |
| CIFX 70E-CO(M/S) | Low Profile PCI Express Communication Interface netX for CANopen – SubD connector 9-pin |
| CIFX 70E-DN(M/S) | Low Profile PCI Express Communication Interface netX for DeviceNet – COMBICON 5-pin |
| CIFX 70E-DP(M/S) | Low Profile PCI Express Communication Interface netX for PROFIBUS – SubD connector 9-pin |
| CIFX 70E-RE | Low Profile PCI Express Communication interface netX for Real-time Ethernet |
| CIFX 80-CO | Compact PCI CANopen |
| CIFX 80-CO(M/S) | CompactPCI Communication Interface netX for CANopen – SubD male Connector 9-pin |
| CIFX 80-DN | Compact PCI DeviceNet |
| CIFX 80-DN(M/S) | CompactPCI Communication Interface netX for DeviceNet – COMBICON 5-pin |
| CIFX 80-DP | Compact PCI PROFIBUS-DP |
| CIFX 80-DP(M/S) | PCI Communication Interface netX für PROFIBUS SubD 9-pin connector, CompactPCI Communication Interface netX for PROFIBUS – SubD female Connector 9-pin |
| CIFX 80-RE | Communication Interface Compact PCI Real-Time-Ethernet |
| CIFX 90 | Mini PCI (as Spare part only) w/o AIFX |
| CIFX 90-CO\F | Mini PCI CANopen |
| CIFX 90-CO\F(M/S) | Mini PCI Communication Interface netX for CANopen – Cable and AIFX-CO with SubD Connector male 9-pin |
| CIFX 90-DN\F | Mini PCI DeviceNet |
| CIFX 90-DN\F(M/S) | Mini PCI Communication Interface netX for DeviceNet – Cable and AIFX-DN with COMBICON 5-pin |
| CIFX 90-DP\F | Mini PCI PROFIBUS-DP incl. AIFX-DP |
| CIFX 90-DP\F(M/S) | Mini PCI Communication Interface netX for PROFIBUS – Cable and AIFX-DP with SubD Connector female 9-pin |
| CIFX 90E | Mini PCI Express |
| CIFX 90E-CO\F | Mini PCI Exp. CANopen incl. AIFX-DP |
| CIFX 90E-CO\F(M/S) | Mini PCI Express Communication Interface netX for CANopen – Cable and AIFX-CO with SubD Connector male |
| CIFX 90E-DN\F | Mini PCI Exp. DeviceNet incl. AIFX-DP |
| CIFX 90E-DN\F(M/S) | PCI Communication Interface netX for DeviceNet – COMBICON 5-pin, Mini PCI Express Communication Interface netX for DeviceNet – Cable and AIFX-DN with COMBICON |
| CIFX 90E-DP\F | Mini PCI Exp. PROFIBUS-DP incl. AIFX-DP |
| CIFX 90E-DP\F(M/S) | Mini PCI Express Communication Interface netX for PROFIBUS – Cable and AIFX-DP with SubD Connector female |
| CIFX 90E-RE\F | Mini PCI Express incl. AIFX-DP |
| CIFX 90E-RE\F | Communication Interface Mini PCI Express, Real-Time-Ethernet |
| CIFX 90-RE\F | Mini PCI Real-Time-Eth. incl. AIFX-DP |
| CIFX 90-RE\F | Communication Interface Mini PCI, Real-Time-Ethernet |
| PMC-COM | Communication Interface PMC CANopen-Master |
| PMC-COS | Communication Interface PMC CANopen-Slave |
| PMC-DNM | Communication Interface PMC DeviceNet-Master |
| PMC-DNS | Communication Interface PMC DeviceNet-Slave |
| PMC-DPS | Communication Interface PMC PROFIBUS-Slave |
| PMC-PB | Communication Interface PMC PROFIBUS-Master |