XTR Series I/O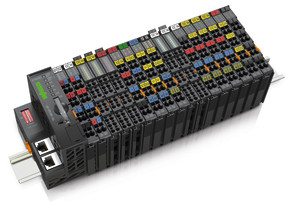 The WAGO-I/O-SYSTEM 750 XTR not only stands out in extreme temperature environments of -40 °C  to +70 °C.  Its high impulse-voltage withstand also makes XTR the efficient and reliable solution for energy and process technologies.
This series of I/O offers extreme protection against climatic influences, vibration, impacts and surge voltages. These conditions occur primarily in places in which technology is exposed to weather conditions, for example in the sector of renewable energy sources such as wind power, photovoltaic plants or in transformer stations. The automation systems used in these sectors often require additional and expensive protection features to "defy" the climatic and mechanical forces at work on them.
XTR can be used without any additional measures, thus reducing the space requirements on the DIN rail, while reducing energy and maintenance costs and enhancing productivity. All of these features make the XTR the perfect "all-in-one" solution for feed-in management and monitoring of power distribution grids.
Key Benefits
Simplifies maintenance
Reduces both space requirements as well as energy and maintenance costs
Increases system availability and return on investment
Enhances productivity
Features high impulse-voltage withstand and immunity to interference acc. to DIN EN 60870-2-1
Vibration-proof and load resistant up to 5g acc. to DIN EN 60068-2-6
15g (150 m/s²) shock resistance or 25g (250 m/s²) continuous shock resistance per IEC 60068-2-27
Available Models
| | |
| --- | --- |
| Part Number | Description |
| 750-880/040-001 | PLC – ETHERNET Programmable Fieldbus Controller; 750 series XTR – for eXTReme environmental conditions; 32-bit CPU; Multitasking; Telecontrol |
| 750-880/040-000 | PLC – ETHERNET Programmable Fieldbus Controller; 750 series XTR – for eXTReme environmental conditions; 32-bit CPU; Multitasking |
| 750-838/040-000 | PLC – CANopen Programmable Fieldbus Controller, D-Sub; 750 series XTR – for eXTReme environmental conditions; 16-bit CPU; Program memory: 128 KB; data memory: 64 KB |
| 750-352/040-000 | ETHERNET TCP/IP fieldbus coupler; 750 series XTR – for eXTReme environmental conditions; 10/100 Mbit/s; digital and analog signals |
| 750-338/040-000 | CANopen fieldbus coupler, D-Sub; 750 series XTR – for eXTReme environmental conditions; 10 Kbaud … 1 Mbaud; digital and analog signals |
| 750-333/040-000 | PROFIBUS DP/V1 fieldbus coupler; 750 series XTR – for eXTReme environmental conditions; 12 Mbaud; digital and analog signals |
| 750-1515/040-000 | 8-channel digital output module; 24 VDC; 750 series XTR – for eXTReme environmental conditions; high-side switching; 2-conductor connection |
| 750-1415/040-000 | 8-channel digital input module; 24 VDC; 750 series XTR – for eXTReme environmental conditions; high-side switching; 2-conductor connection |
| 750-1405/040-000 | 16-channel digital input module; 24 VDC; 750 series XTR – for eXTReme environmental conditions; high-side switching |
| 750-517/040-000 | 2-channel relay output module; AC 230 V, DC 300 V; 750 series XTR – for eXTReme environmental conditions; POTENTIAL FREE; 2 changeover contacts |
| 750-508/040-000 | 2-channel digital output module; 24 VDC; 750 series XTR – for eXTReme environmental conditions; short-circuit protected; high-side switching; with diagnostics |
| 750-407/040-000 | 2-channel digital input module; DC 220 V; 750 series XTR – for eXTReme environmental conditions; 2- to 4-conductor connection; high-side switching |
| 750-563/040-000 | 2-channel analog output module; DC 0/4 … 20 mA / 6 … 18 V; 750 series XTR – for eXTReme environmental conditions; 16 bits |
| 750-559/040-000 | 4-channel analog output module; 0-10 V; 750 series XTR – for eXTReme environmental conditions |
| 750-557/040-000 | 4-channel analog output module; ± 10 V; 750 series XTR – for eXTReme environmental conditions |
| 750-469/040-000 | 2-channel analog input module; for thermocouples; 750 series XTR – for eXTReme environmental conditions |
| 750-468/040-000 | 4-channel analog input module; 0-10 V; 750 series XTR – for eXTReme environmental conditions; Single-ended |
| 750-464/040-000 | 2-/4-channel analog input module; for resistance sensors; 750 series XTR – for eXTReme environmental conditions; RTD, configurable |
| 750-457/040-000 | 4-channel analog input module; ± 10 V; 750 series XTR – for eXTReme environmental conditions; Single-ended |
| 750-455/040-000 | 4-channel analog input module; 4-20 mA; 750 series XTR – for eXTReme environmental conditions; Single-ended |
| 750-453/040-000 | 4-channel analog input module; 0-20 mA; 750 series XTR – for eXTReme environmental conditions; Single-ended |
| 750-1606/040-000 | Field side connection module 16-; DC 0 V; 750 series XTR – for eXTReme environmental conditions |
| 750-1605/040-000 | Field side connection module 16+; 24 VDC; 750 series XTR – for eXTReme environmental conditions |
| 750-652/040-000 | Serial interface; RS-232 C / RS-485 configurable; 750 series XTR – for eXTReme environmental conditions |
| 750-626/040-000 | Filter module; 24 VDC; 750 series XTR – for eXTReme environmental conditions; System and field supply |
| 750-624/040-001 | Filter module; 24 VDC; 750 series XTR – for eXTReme environmental conditions; Field supply |
| 750-613/040-000 | Supply module; 24 VDC; 750 series XTR – for eXTReme environmental conditions; with bus power supply unit |
| 750-612/040-000 | Supply module; AC/DC 230 V; 750 series XTR – for eXTReme environmental conditions; passive |
| 750-602/040-000 | Supply module; 24 VDC; 750 series XTR – for eXTReme environmental conditions; passive |
| 750-600/040-000 | End module; 750 series XTR – for eXTReme environmental conditions |