Specialty and System I/O Modules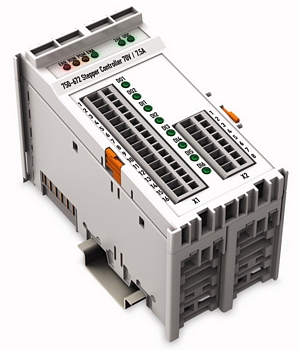 There are numerous specialty I/O modules available for our 750 Series I/O.   These modules allow customers to incorporate many special functions into a standard I/O node.  Functions include RS232, RS485 serial communications, Encoder interface, Bluetooth Radio communications, Up/Down counters and even power and current measurement.
The system modules provide power conversion, isolation, and extension capabilities to the I/O nodes.   There is an extensive list of both module types available.
AVAILABLE MODELS:
| | |
| --- | --- |
| 750-404 | 1 CHAN U/D COUNTER 100KHZ |
| 750-404/000-001 | 1 CHANNEL W/INPUT ENABLE |
| 750-404/000-002 | 1 CH U/D CNTR W/SETABLE COUNT TIME |
| 750-404/000-003 | 1 CHAN FREQ CNTR W/SETABLE TIME DURA |
| 750-404/000-004 | COUNTER W/COMPARE & OUTPUT |
| 750-404/000-005 | 2 CH 16 BIT PER CHANNEL COUNTER |
| 750-600 | BUS END TERMINAL |
| 750-600/025-000 | END MODULE |
| 750-601 | BUS POWER FEED W/FUSE 24VDC |
| 750-602 | BUS POWER FEED W/O FUSE |
| 750-602/025-000 | 24V DC Power Supply/T |
| 750-603 | MODULE W/ 8 (+) TERMINALS ONLY |
| 750-604 | MODULE W/ 8 (-) TERMINALS ONLY |
| 750-606 | 24V DC 1.0A POWER SUPPLY EX I |
| 750-608 | Trimmer-Module/ 1k/ +-12V DC |
| 750-609 | SUPPLY MODULE W/O DGNSTCS W/MIRCROFS |
| 750-610 | POWER FEED W/FUSE W/D 24VDC |
| 750-611 | POWER FEED W/FUSE W/D 23OVAC |
| 750-612 | BUS POWER FEED W/O FUSE 250V |
| 750-613 | AUX INTERNAL DATA BUS SUPPLY 5V,2.0A |
| 750-614 | MODULE W/POWER TERMINALS ONLY |
| 750-615 | BUS POWER FEED W/FUSE 120VAC |
| 750-616 | DISTANCE MODULE |
| 750-616/030-000 | DISTANCE MODULE W/24V/230V PRINTING |
| 750-617 | 24V AC Power Supply/Fuse |
| 750-621 | SEPARATION MODULE W/PJC |
| 750-623 | VOLTAGE STEPDOWN MODULE 24TO5VDC0.5A |
| 750-624 | 24VDC FIELD FEEDING FILTER (SURGE) |
| 750-624/020-000 | 24VDC FIELD SUPPLY FILTER (SURGE)/HI |
| 750-625/000-001 | 24V DC 1.0A POWER SUPPLY EX I |
| 750-626 | 24VDC POWER PACK FILTER (SURGE) |
| 750-626/020-000 | 24V DC Supply Filter (Surge)/ HI |
| 750-626/025-000 | 24V DC SUPPLY FILTER (SURGE)/ T |
| 750-626/025-001 | 24V DC SUPPLY FILTER (SURGE)/ HI/T |
| 750-627 | BUS EXTENDER END MODULE |
| 750-628 | BUS EXTENDER COUPLER MODULE |
| 750-630/000-005 | SSI Transm. Interf. 15Bit Status |
| 750-632 | PROPRTIONAL VALVE CONTROL |
| 750-633 | UP/DOWN COUNTER EX I |
| 750-635 | DIGITAL IMPULSE INTERFACE |
| 750-637/000-002 | Inc.Enc./24V/32Bit/S.E. |
| 750-637/000-003 | Inc. Enc./RS422/32Bit/Single Interp. |
| 750-637/000-004 | Inc.Enc./ 24V/ 32 Bit/ S.E./ cam |
| 750-638 | 2 CH UP/DOWN COUNTER 24VDC 500Hz 16B |
| 750-638/025-000 | 2-CHANNEL UP/DOWN COUTNER, 500 Hz/T |
| 750-640 | REAL TIME CLOCK |
| 750-641 | DALI/DSI-MASTER |
| 750-642 | ENOCEAN/RF-RECEIVER |
| 750-643 | MP-BUS MASTER |
| 750-644 | BLUETOOTH/RF-transceiver |
| 750-645 | 24V DC 2-AI/DO VIB |
| 750-650 | 1 CHAN RS232C INTERFACE |
| 750-650/000-001 | 1 CHAN RS232C INTERFACE 5 BYTE |
| 750-650/000-002 | RS232C-9600/7/E/2 STOP BITS |
| 750-650/000-004 | RS 232C 4800/7/E |
| 750-650/000-006 | RS232 C 9600/8/E/1 |
| 750-650/000-010 | RS232 C 19200/8/N/1/RTS-CTS |
| 750-650/000-011 | RS 232 C 19200/8/E/1/1 |
| 750-650/000-012 | RS232 C 2400/8/N/1 |
| 750-650/003-000 | RS 232 C/ ADJUSTABLE |
| 750-651 | 1 CHAN TTY 20MA INTERFACE |
| 750-651/000-001 | TTY- 20MA CURRENT LOOP 5 BYTE |
| 750-652 | RS232C/RS485/adjustable |
| 750-652/025-000 | SERIAL INTERFACE RS232/ RS485/ T |
| 750-653 | 1 CHAN RS485 INTERFACE |
| 750-653/000-001 | RS485 7DATA,1START,2STOP EVEN PARITY |
| 750-653/000-002 | RS 485 9600/8/E/1START/1STOP |
| 750-653/000-006 | RS 485C/ 19200/ N/ 8/ 1/ 5 BYTE |
| 750-653/003-000 | RS 485/ ADJUSTABLE I/O MODULE |
| 750-653/025-000 | RS485 INTERFACE (ADJUSTABLE)/T |
| 750-653/025-018 | RS 485 9600/N/8/1/5Byte/Cont./T |
| 750-654 | DATA EXCHANGE MODULE |
| 750-655 | AS-INTERFACE MASTER MODULE V2.1M3 |
| 750-657 | 4 CHAN I/O-LINK MASTER |
| 750-658 | CAN GATEWAY |
| 750-660/000-001 | 8FDI 24V D PROFIsafe |
| 750-661/000-003 | 4FDI 24V Profisafe V2.0 iPar |
| 750-662/000-003 | 8FDI 24V Profisafe V2.0 iPar |
| 750-663/000-003 | 4 F-Ex i DI 24V PROFIsafe V2 iPar |
| 750-665/000-001 | PROFIsafe DIGITAL INPUT/OUTPUT 4CHAN |
| 750-667/000-003 | 4FDI 4FDO Profisafe V2.0 iPar |
| 750-670 | StepperCtrl Puls-DirRS422 500kHz PWM |
| 750-671 | Stepper Ctrl. 24V/1,5A 2IN |
| 750-672 | STEPPER CTRL 70V/7,5A 6IN 2OUT |
| 750-673 | STEPPER CTRL 70V/7,5A INC 6IN/2OUT |
| 750-1605 | 16+ DC FIELD SIDE CONNECTION |
| 750-1606 | 16- DC FIELD SIDE CONNECTION |
| 750-1607 | 8+/8- DC FIELD SIDE CONNECTION |