767 Series Speedway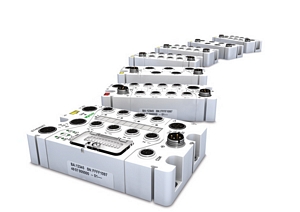 With the ability to process up to 256 Digital Signals plus 64 Analog signals in approximately 700us the 767 Speedway Series of Industrial I/O sets the standard in IP67 I/O.  Its IP67 rating allows the I/O to be directly attached to your system eliminating the costs of enclosures and panels.  The IP67 design is fully encapsulated and withstands EMC, Water, dust and operating temperatures from -25 degrees C to +60 degrees C.
The 767 series is fieldbus independent, supporting many networks including Profibus, Profinet, Modbus TCP/IP. Ethernet IP, CANopen, Sercos, and DeviceNet.   Fieldbus networking allows you to easily integrate the 767 series into your existing or new machine design.  The advanced parameterization through FDT/DTM technology further simplifies and standardizes integration.
Like its sister the 750 series I/O, the 767 series is fully programmable through the standard IEC 61131-3 Codesys suite. This allows users the flexibility to use the programming language of their choice including Ladder Logic, Instruction Lists, Function Block Diagram, Structured Text, and Function Charts.
AVAILABLE MODELS:
| | |
| --- | --- |
| Fieldbus Couplers (FC) | |
| 767-1101 | PROFIBUS-DP/V1 Coupler, Incl. 8 Digital Inputs 24 VDC |
| 767-1201 | PROFINET I/O Coupler, Incl. 8 Digital Inputs 24 VDC |
| 767-1301 | ETHERNET Coupler, Incl. 8 Digital Inputs 24 VDC |
| 767-1311 | Sercos Coupler, Incl. 8 Digital Inputs 24 VDC High-Speed |
| 767-1401 | DeviceNet Coupler, Incl. 8 Digital Inputs 24 VDC |
| 767-1501 | CANopen Coupler, Incl. 8 Digital Inputs 24 VDC |
| Digital Input Modules (DI) | |
| 767-3801 | 8 DI, 24 VDC, (8 x M8) |
| 767-3802 | 8 DI, 24 VDC, (4 x M12) |
| 767-3803 | 8 DI, 24 VDC, (8 x M8) Low Side Switching |
| 767-3804 | 8 DI, 24 VDC, (4 x M12) Low Side Switching |
| 767-3805 | 8 DI, 24 VDC, (8 x M12) |
| 767-3806 | 8 DI, 24 VDC, High-Speed (sercos) (4 x M12) |
| Digital Output Modules (DO) | |
| 767-4801/000-800 | 8 DO, 24 VDC, 0.5 A (8 x M8)Interference-Free Version |
| 767-4802/000-800 | 8 DO, 24 VDC, 0.5 A (4 x M12) Interference-Free Version |
| 767-4803/000-800 | 8 DO, 24 VDC, 2.0 A (8 x M8) Interference-Free Version |
| 767-4804/000-800 | 8 DO, 24 VDC, 2.0 A (4 x M12) Interference-Free Version |
| 767-4805 | 8 DO, 24 VDC, 0.5 A (8 x M8) Low Side Switching |
| 767-4806 | 8 DO, 24 VDC, 0.5 A (4 x M12) |
| 767-4807/000-800 | 8 DO, 24 VDC, 0.5 A (8 x M12) Interference-Free Version |
| 767-4808 | 8 DO, 24 VDC, 0.1 A High-Speed (sercos) (4 x M12) |
| Digital Input/Output Modules (DIO) | |
| 767-5801/000-800 | 8 DIO, 24 VDC, 0.5 A (8 x M8) Interference-Free Version |
| 767-5802/000-800 | 8 DIO, 24 VDC, 0.5 A (4 x M12) Interference-Free Version |
| 767-5803/000-800 | 8 DIO, 24 VDC, 0.5 A (8 x M12) Interference-Free Version |
| 767-5401 | 4 DIO, 24 VDC, 0.2 A High-Speed (sercos) (4 x M12) |
| Analog Input Modules (AI) | |
| 767-6401 | 4 AI, voltage/current |
| 767-6402 | 4 AI, RTD |
| 767-6403 | 4 AI, thermocouple |
| Analog Output Modules (AO) | |
| 767-7401 | 4 AO, voltage/current, (0 … 20 mA, 4 … 20 mA ±20 mA, 0 … 10 V ±10 V) |
| Function and Technology Modules | |
| 767-5201 | TTL Incremental Encoder/SSI Interface (4 x M12) 4 DIO |
| 767-5202 | HTL Incremental Encoder/Counter (4 x M12) 4 DIO |
| Communication Modules | |
| 767-5203 | 2-channel serial Interface, RS-232, RS-422/485 (4 x M12) + 4 DIO |
| 767-5204 | MOVILINK® Interface (4 x M12) + 4 DIO |
| Supply Modules | |
| 767-9101 | Power Divider, (1 x M23 + 6 x M12) |