750 Series Fieldbus I/O Controllers and Programmable Controllers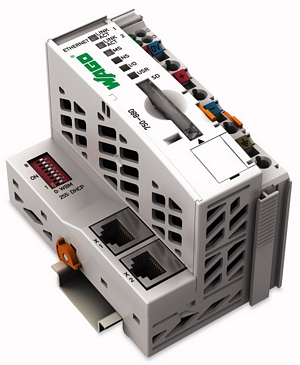 The 750 Series of Industrial Din Rail mountable I/O supports communications over all major Industrial networks.  The I/O is fieldbus independent providing the ability to easily switch from one network to another without changing the connected I/O modules.  This allows machine builders to easily support varying customers' communication requirements.
The 750 series can be either programmable or non-programmable, allowing the user to meet requirements for lower cost and also providing added flexibility.   The popular Ethernet versions have on board switches for easier wiring and also dual Ethernet channels for redundancy in some models.
Programming languages include IEC61131-3 Ladder Logic, Instruction Lists, Function Block Diagram, Structured Text, and Function Charts.   Diamond Technologies has significant experience in both the programming and specification of the I/O in many diverse applications and can assist with product selection and engineering design.
AVAILABLE MODELS:
| | |
| --- | --- |
| 750-340 | Profinet Fieldbus Coupler |
| 750-370 | Profinet Fieldbus Coupler |
| 750-303 | Profibus Fieldbus Coupler |
| 750-333 | Profibus Fieldbus Coupler |
| 750-343 | Profibus Fieldbus Coupler |
| 750-331 | Profibus Fieldbus Coupler |
| 750-341 | Ethernet IP Modbus TCP/IP Fieldbus Coupler |
| 750-352 | Ethernet IP Modbus TCP/IP Fieldbus Coupler |
| 750-352/020-000 | Ethernet IP Modbus TCP/IP Fieldbus Coupler |
| 750-342 | Modbus TCP/IP Fieldbus Coupler |
| 750-354 | EtherCAT Fieldbus Coupler |
| 750-306 | DeviceNet Fieldbus Coupler |
| 750-346 | DeviceNet Fieldbus Coupler |
| 750-307 | CANopen Fieldbus Coupler |
| 750-337 | CANopen Fieldbus Coupler |
| 750-338 | CANopen Fieldbus Coupler |
| 750-347 | CANopen Fieldbus Coupler |
| 750-348 | CANopen Fieldbus Coupler |
| 750-351 | Sercos Fieldbus Coupler |
| 750-312 | Modbus Fieldbus Coupler |
| 750-314 | Modbus Fieldbus Coupler |
| 750-315 | Modbus Fieldbus Coupler |
| 750-316 | Modbus Fieldbus Coupler |
| 750-304 | Interbus Fieldbus Coupler |
| 750-344 | Interbus Fieldbus Coupler |
| 750-345 | Interbus Fieldbus Coupler |
| 750-334 | Interbus Fieldbus Coupler |
| 750-310 | CC-Link Fieldbus Coupler |
| 750-305 | CAL Fieldbus Coupler |
| 750-300 | II/O-Lightbus Fieldbus Coupler |
| 750-320 | II/O-Lightbus Fieldbus Coupler |
| 750-319 | LonWorks Fieldbus Coupler |
| 750-319/004-000 | LonWorks Fieldbus Coupler |
| 750-833 | Profibus Programmable Fieldbus Controller |
| 750-880 | Ethernet IP Modbus TCP/IP Programmable Fieldbus Controller |
| 750-881 | Ethernet IP Modbus TCP/IP Programmable Fieldbus Controller |
| 750-841 | Ethernet IP Modbus TCP/IP Programmable Fieldbus Controller |
| 750-871 | Ethernet IP Modbus TCP/IP Programmable Fieldbus Controller |
| 750-873 | Ethernet IP Modbus TCP/IP Programmable Fieldbus Controller |
| 750-882 | Ethernet IP Modbus TCP/IP Programmable Fieldbus Controller |
| 750-842 | Ethernet IP Modbus TCP/IP Programmable Fieldbus Controller |
| 750-843 | Ethernet IP Modbus TCP/IP Programmable Fieldbus Controller |
| 750-863 | Ethernet IP Modbus TCP/IP Programmable Fieldbus Controller |
| 750-806 | DeviceNet Fieldbus Programmable Controller |
| 750-837 | CANopen Programmable Fieldbus Controller |
| 750-838 | CANopen Programmable Fieldbus Controller |
| 750-860 | Linux Programmable Fieldbus Controller |
| 750-863 | Linux Programmable Fieldbus Controller |
| 750-812 | Modbus Programmable Fieldbus Controller |
| 750-814 | Modbus Programmable Fieldbus Controller |
| 750-815 | Modbus Programmable Fieldbus Controller |
| 750-816 | Modbus Programmable Fieldbus Controller |
| 750-804 | Interbus Programmable Fieldbus Controller |
| 750-849 | KNX Programmable Fieldbus Controller |
| 750-830 | BACnet Programmable Fieldbus Controller |
| 750-819 | LonWorks Programmable Fieldbus Controller |
| | |