DT9000 Industrial PC Gateway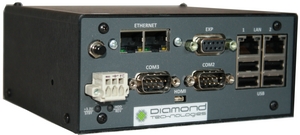 The DT9000 is specifically designed for M2M (Machine to Machine) applications. The DT9000 can be used by industrial OEMs, system integrators and end users looking to add remote connectivity to industrial equipment. Supporting connections to the leading PLCs, including serial and Ethernet connection schemes, it is the fastest way to implement an M2M platform for PLC based equipment. 
With 2 Ethernet ports available, the gateway can support independent Ethernet infrastructures. The serial support allows traditional PLCs to be connected to the web and your M2M platform. Additional options, such as cellular and WiFi, make the DT9000 a flexible platform that can be deployed in nearly any application.