Lynx
The Lynx™ PDA combines the latest technology in a robust package that fits in your pocket. This state-of-the-art PDA features an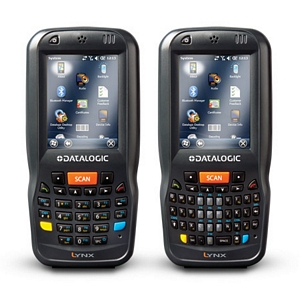 806 MHz processor with 256 MB RAM and 512 MB Flash, all delivered in the industry's most appreciated ergonomic form factor. The Lynx PDA has handy LEDs to provide instant status on battery charging, good read indication and keyboard state. It offers a vibrator for customizable alerts and an accelerometer to automatically orient the display.
The Lynx PDA offers excellent aesthetics complimented by industrial robustness that survives both indoor and outdoor usage. A high drop resistance rating ensures the ruggedness of the Lynx PDA.
The Lynx PDA comes equipped with either a 1D laser scanner or a 2D bar code imager. For emerging applications requiring evidence of task execution or damaged documentation, an autofocus camera is included with a built-in flash for photo documentation.
Features
Ergonomic, compact and robust
Microsoft Windows Embedded Handheld 6.5
Assisted GPS (A-GPS) with Skyhook's Core Engine hybrid positioning system for location-based applications
3G/4G (HSPA+) mobile radio for voice and data communication
Summit embedded 802.11 b/g/n radio Cisco CCX v4 certified for enterprise-class mobile connectivity
Bluetooth® wireless technology Class 2 with EDR for simultaneous connections with lower power consumption
Laser or wide aspect 2D imager
3 Megapixel autofocus camera with flash
256 MB RAM / 512 MB Flash memory
XScale™ PXA 310 @ 806 MHz processor
User-accessible micro SD memory slot (SDHC)
Ruggedized with 1.2 m / 4 ft drop to concrete resistance and IP54 protection class

Wavelink Avalanche® device management pre-licensed
Available Models
| | |
| --- | --- |
| Lynx with Bluetooth® v2.0, 802.11 b/g/n CCX v4, 2D Imager, Camera 3MPixel,Windows Embedded Handheld 6.5, 256 MB RAM/512 MB Flash, 27-Key Numeric | 944400002 |
| Lynx with Bluetooth® v2.0, 802.11 b/g/n CCX v4, 2D Imager, Camera 3MPixel,Windows Embedded Handheld 6.5, 256 MB RAM/512 MB Flash, 46-Key QWERTY | 944400006 |
| Lynx with Bluetooth® v2.0, 802.11 b/g/n CCX v4, HSPA+ 3G/4G, GPS, 2D Imager, Camera 3MPixel, Windows Embedded Handheld 6.5, 256 MB RAM/512 MB Flash, 27-Key Numeric | 944400003 |
| Lynx with Bluetooth® v2.0, 802.11 b/g/n CCX v4, HSPA+ 3G/4G, GPS, 2D Imager, Camera 3MPixel, Windows Embedded Handheld 6.5, 256 MB RAM/512 MB Flash, 46-Key QWERTY | 944400007 |
| Lynx with Bluetooth® v2.0, 802.11 b/g/n CCX v4, HSPA+ 3G/4G, GPS, Std Laser, Camera 3MPixel, Windows Embedded Handheld 6.5, 256 MB RAM/512 MB Flash, 27-Key Numeric | 944400001 |
| Lynx with Bluetooth® v2.0, 802.11 b/g/n CCX v4, HSPA+ 3G/4G, GPS, Std Laser, Camera 3MPixel, Windows Embedded Handheld 6.5, 256 MB RAM/512 MB Flash, 46-Key QWERTY | 944400005 |
| Lynx with Bluetooth® v2.0, 802.11 b/g/n CCX v4, Std Laser, Windows Embedded Handheld 6.5, 256 MB RAM/512 MB Flash, 27-Key Numeric | 944400000 |
| Lynx with Bluetooth® v2.0, 802.11 b/g/n CCX v4, Std Laser, Windows Embedded Handheld 6.5, 256 MB RAM/512 MB Flash, 46-Key QWERTY | 944400004 |