Falcon X3
The Falcon X3 allows you to communicate over a Summit 802.11 a/b/g radio with CCX v4 certification for security and seamless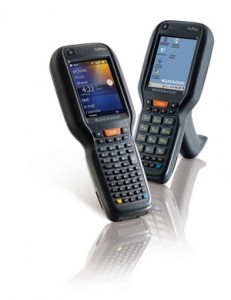 roaming or through wired standards including USB, RS-232, modem and Ethernet.  Parallel computer architecture combines a PXA 310 and Cortex-M3 processors with a base memory package of 256 MB RAM / 256 MB Flash and choice of Microsoft Windows operating systems: Windows Mobile or CE.
With the Falcon X3, you can capture data with a high performance laser scanner with Green Spot, an auto ranging laser (XLR) scanner, or a 2D imager with Green Spot combined with a 3 Mega pixel color camera.  And ergonomic hand held and pistol grip form factors balance a 3.5 inch display, full keyboards and a one piece 5,000 mAh battery.  The unit's functional rubberized plastic enclosure survives daily abuse and trauma from drops to concrete and exposure to water and dust.
Over the course of a full shift, users will feel the difference.  An oversized numeric and alphanumeric back lit keyboards, a crystal clear display and an arched pistol grip handle with ergonomic trigger ease eye strain and improve the user's physical comfort.
Features
Datalogic's trademark ergonomics balance a 3.5″ display and full shift battery
Ruggedized with 1.8 m (6 ft) drop to concrete resistance and IP64 protection class
High performance laser with Green Spot
Wide aspect 2D imager with Green Spot
Auto Ranging Laser
Optional 3M pixel autofocus camera
CCX v4 certified 802.11 a/b/g radio
Bluetooth® wireless communications
Microsoft Windows Mobile 6.5 or Windows CE 6.0 operating system
Parallel processor architecture combines an XScale™ PXA 310 and a Cortex-M3 processor
256 MB RAM / 256 MB Flash memory
User-accessible MicroSD memory slot
Wavelink® Avalanche® device management and Terminal Emulation prelicensed
Datalogic Utilities and Software Development Kit
Available Models
| | |
| --- | --- |
| Falcon X3 Hand held, 802.11 a/b/g CCX v4, Bluetooth v2, 256MB RAM, 256MB Flash, 29-key Numeric, High Performance Laser w Green Spot, WEHH 6.5 | 945200009 |
| Falcon X3 Hand held, 802.11 a/b/g CCX v4, Bluetooth v2, 256MB RAM, 256MB Flash, 29-key Numeric, High Performance Laser w Green Spot,CE 6 | 945200000 |
| Falcon X3 Hand held, 802.11 a/b/g CCX v4, Bluetooth v2, 256MB RAM, 256MB Flash, 29-key Numeric, Wide aspect imager w Green Spot, WEHH 6.5 | 945200008 |
| Falcon X3 Hand held, 802.11 a/b/g CCX v4, Bluetooth v2, 256MB RAM, 256MB Flash, 29-key Numeric, wide aspect imager w Green Spot, Windows CE 6 release 3 | 945200010 |
| Falcon X3 Hand held, 802.11 a/b/g CCX v4, Bluetooth v2, 256MB RAM, 256MB Flash, 52-key Alpha numeric, High Performance Laser w Green Spot, Camera 3MP, WEHH 6.5 | 945200025 |
| Falcon X3 Hand held, 802.11 a/b/g CCX v4, Bluetooth v2, 256MB RAM, 256MB Flash, 52-key Alpha numeric, High Performance Laser w Green Spot, CE 6 | 945200027 |
| Falcon X3 Hand held, 802.11 a/b/g CCX v4, Bluetooth v2, 256MB RAM, 256MB Flash, 52-key Alpha numeric, Wide aspect imager w Green Spot, Camera 3MP, WEHH 6.5 | 945200026 |
| Falcon X3 Hand held, 802.11 a/b/g CCX v4, Bluetooth v2, 256MB RAM, 256MB Flash, 52-key Alpha numeric, Wide aspect imager w Green Spot, CE 6 | 945200028 |
| Falcon X3 Pistol grip, 802.11 a/b/g CCX v4, Bluetooth v2, 256MB RAM, 256MB Flash, 29-key Numeric, Auto ranging laser (XLR), WEHH 6.5 | 945250012 |
| Falcon X3 Pistol grip, 802.11 a/b/g CCX v4, Bluetooth v2, 256MB RAM, 256MB Flash, 29-key Numeric, Auto ranging laser (XLR), Windows CE 6 release 3 | 945250008 |
| Falcon X3 Pistol grip, 802.11 a/b/g CCX v4, Bluetooth v2, 256MB RAM, 256MB Flash, 29-key Numeric, High Performance Laser w Green Spot, WEHH 6.5 | 945250003 |
| Falcon X3 Pistol grip, 802.11 a/b/g CCX v4, Bluetooth v2, 256MB RAM, 256MB Flash, 29-key Numeric, High Performance Laser w Green Spot, Windows CE 6 release 3 | 945250004 |
| Falcon X3 Pistol grip, 802.11 a/b/g CCX v4, Bluetooth v2, 256MB RAM, 256MB Flash, 29-key Numeric, Wide aspect imager w Green Spot, WEHH 6.5 | 945250013 |
| Falcon X3 Pistol grip, 802.11 a/b/g CCX v4, Bluetooth v2, 256MB RAM, 256MB Flash, 29-key Numeric, Wide aspect imager w Green Spot, Windows CE 6 release 3 | 945250015 |
| Falcon X3 Pistol grip, 802.11 a/b/g CCX v4, Bluetooth v2, 256MB RAM, 256MB Flash, 52-key Alpha numeric, Auto ranging laser (XLR), Camera 3MP, WEHH 6.5 | 945250034 |
| Falcon X3 Pistol grip, 802.11 a/b/g CCX v4, Bluetooth v2, 256MB RAM, 256MB Flash, 52-key Alpha numeric, Auto ranging laser (XLR), CE 6 | 945250038 |
| Falcon X3 Pistol grip, 802.11 a/b/g CCX v4, Bluetooth v2, 256MB RAM, 256MB Flash, 52-key Alpha numeric, High Performance Laser w Green Spot, Camera 3MP, WEHH 6.5 | 945250033 |
| Falcon X3 Pistol grip, 802.11 a/b/g CCX v4, Bluetooth v2, 256MB RAM, 256MB Flash, 52-key Alpha numeric, High Performance Laser w Green Spot, CE 6 | 945250037 |
| Falcon X3 Pistol grip, 802.11 a/b/g CCX v4, Bluetooth v2, 256MB RAM, 256MB Flash, 52-key Alpha numeric, Wide aspect imager w Green Spot, Camera 3MP, WEHH 6.5 | 945250036 |
| Falcon X3 Pistol grip, 802.11 a/b/g CCX v4, Bluetooth v2, 256MB RAM, 256MB Flash, 52-key Alpha numeric, Wide aspect imager w Green Spot, CE 6 | 945250039 |
| Falcon X3 Pistol grip, 802.11 a/b/g CCX v4, Bluetooth v2, 256MB RAM, 256MB Flash, 52-key Alpha numeric, Wide aspect imager w Green Spot, WEHH 6.5 | 945250035 |
| Falcon X3 Pistol grip, 802.11 a/b/g CCX v4, Bluetooth v2, 256MB RAM, 256MB Flash, 52-key F1-F24 keypad, Auto ranging laser (XLR), Windows CE 6 | 945250045 |
| Falcon X3 Pistol grip, 802.11 a/b/g CCX v4, Bluetooth v2, 256MB RAM, 256MB Flash, 52-key F1-F24 keypad, High Performance Laser w Green Spot, Windows CE 6 | 945250044 |