Elf
Capitalizing on Datalogic's legendary ergonomics, the Elf PDA packs unprecedented features into a compact form factor built for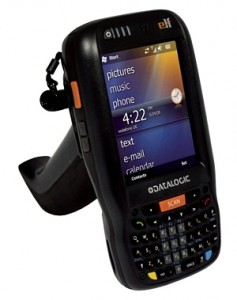 single handed use. Use of an accelerometer eliminates awkward presentation of on-screen data and a unique guitar pick stylus provides for intuitive touch screen navigation.
Both a 1D laser scanner and 2D bar code imager enable the user to capture a wide array of bar codes seen across diverse enterprises. Both of these have Datalogic's patented Green Spot good read technology to ensure user efficiency.
The Elf provides four wireless technologies in the same form factor: Bluetooth EDR for fast data transfer, 802.11 a/b/g with Cisco Certified security, UMTS HSDPA for real-time communication outside the enterprise Assisted GPS (A-GPS) with Skyhook's Core Engine hybrid positioning system for location based applications.

Features
Ergonomic, compact and robust
Windows Embedded Handheld 6.5 or CE 6.0
Assisted GPS (A-GPS) with Skyhook's Core Engine hybrid positioning system for location based applications and directions (WEHH 6.5 only)
UMTS HSDPA mobile radio for voice and data communication (WEHH 6.5 only)
Summit embedded 802.11 a/b/g radio for enterprise-class mobile connectivity with CCX V4 certification
Bluetooth® wireless Communications 2.0 EDR for simultaneous connections with lower power consumption
High performance Laser or Wide aspect 2D imager with Datalogic's patented Green Spot for good read confirmation
Accelerometer to auto-rotate display (WEHH 6.5 only)
3 Megapixel autofocus Camera with Flash (WEHH 6.5 only)
256 MB RAM / 256 MB Flash memory
XScale™ PXA 310 @ 624 MHz processor
User-accessible micro SD memory slot (SDHC)
Ruggedized with 1.5 m / 5.0 ft drop to concrete resistance and IP64 protection class

Wavelink Avalanche® device management
Available Models
| | |
| --- | --- |
| Elf with Bluetooth v2.0, 802.11 a/b/g CCX V4, 2D Imager w/ Green Spot, Windows CE 6.0, 256MB RAM/256MB Flash, 27-Key Numeric | 944300031 |
| Elf with Bluetooth v2.0, 802.11 a/b/g CCX V4, 2D Imager w/ Green Spot, Windows CE 6.0, 256MB RAM/256MB Flash, 46-Key QWERTY | 944300032 |
| Elf with Bluetooth v2.0, 802.11 a/b/g CCX V4, 3.5G UMTS HSDPA, GPS, 2D Imager w/ Green Spot, Camera 3MPixel, WEHH 6.5, 256MB RAM/256MB Flash, 46-Key AZERTY | 944301012 |
| Elf with Bluetooth v2.0, 802.11 a/b/g CCX V4, 3.5G UMTS HSDPA, GPS, Std 2D Imager w/ Green Spot, Camera 3MPixel, WEHH 6.5, 256MB RAM/256MB Flash, 27-Key Numeric | 944301004 |
| Elf with Bluetooth v2.0, 802.11 a/b/g CCX V4, 3.5G UMTS HSDPA, GPS, Std 2D Imager w/ Green Spot, Camera 3MPixel, WEHH 6.5, 256MB RAM/256MB Flash, 46-Key QWERTY | 944301005 |
| Elf with Bluetooth v2.0, 802.11 a/b/g CCX V4, 3.5G UMTS HSDPA, GPS, Std Laser w/ Green Spot, Camera 3MPixel, WEHH 6.5, 256MB RAM/256MB Flash, 27-Key Numeric | 944301003 |
| Elf with Bluetooth v2.0, 802.11 a/b/g CCX V4, 3.5G UMTS HSDPA, GPS, Std Laser w/ Green Spot, Camera 3MPixel, WEHH 6.5, 256MB RAM/256MB Flash, 46-Key AZERTY | 944301011 |
| Elf with Bluetooth v2.0, 802.11 a/b/g CCX V4, 3.5G UMTS HSDPA, GPS, Std Laser w/ Green Spot, Camera 3MPixel, WEHH 6.5, 256MB RAM/256MB Flash, 46-Key QWERTY | 944301002 |
| Elf with Bluetooth v2.0, 802.11 a/b/g CCX V4, Std 2D Imager w/ Green Spot, Camera 3MPixel, WEHH 6.5, 256MB RAM/256MB Flash, 27-Key Numeric | 944301001 |
| Elf with Bluetooth v2.0, 802.11 a/b/g CCX V4, Std 2D Imager w/ Green Spot, Camera 3MPixel, WEHH 6.5, 256MB RAM/256MB Flash, 46-Key QWERTY | 944301009 |
| Elf with Bluetooth v2.0, 802.11 a/b/g CCX V4, Std Laser w/ Green Spot, Camera 3MPixel, WEHH 6.5, 256MB RAM/256MB Flash, 27-Key Numeric | 944301000 |
| Elf with Bluetooth v2.0, 802.11 a/b/g CCX V4, Std Laser w/ Green Spot, Camera 3MPixel, WEHH 6.5, 256MB RAM/256MB Flash, 46-Key QWERTY | 944301008 |
| Elf with Bluetooth v2.0, 802.11 a/b/g CCX V4, Std Laser w/ Green Spot, Windows CE 6.0, 256MB RAM/256MB Flash, 27-Key Numeric | 944301015 |
| Elf with Bluetooth v2.0, 802.11 a/b/g CCX V4, Std Laser w/ Green Spot, Windows CE 6.0, 256MB RAM/256MB Flash, 46-Key QWERTY | 944301016 |