PowerScan DPM Series
The PowerScan 9500 Series of imagers represent the new 2D handheld imagers with rugged mechanics for industrial applications.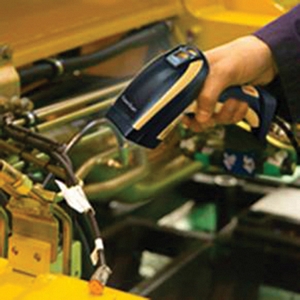 An intuitive and effortless scanning experience is the goal of the PowerScan 9500 family. These imagers combine omnidirectional reading capabilities with state-of-the-art optical characteristics.  This provides outstanding snappiness and depth of field, which are typically the strong points of laser scanners.
The PowerScan PD8590-DPM and PD9530-DPM are ultra-high performance handheld area imagers specifically designed for applications based on codes printed with Direct Part Marking (DPM) technology.