QuickScan I QD2100
The QuickScan reader series is Datalogic ADC's value line of general purpose handheld data collection products. The QuickScan I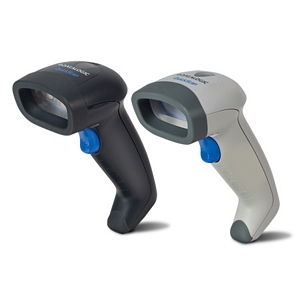 QD2100 linear imaging reader is an entry level product that is perfect for use in retail and office environments as well as activities associated with couriers and postal services.
The QD2100 is small and lightweight and its ergonomic design is comfortable to use during daily operations. It offers snappy reading performance especially on hard to read bar codes and is capable of reading a wide range of symbologies including the majority of 1D codes plus GS1 DataBar™ linear codes. The QD2100 reader features Datalogic's exclusive patented 'Green Spot' for good read feedback directly on the code. When in Stand Mode, the Green Spot remains on to show the operator where to position the code for quick and intuitive reading.
Like the QuickScan L reader, the QD2100 has been designed with durability in mind. One of the most vulnerable features of any scanner is damage to the scan window. When such incidents happen, the scanner may have to be replaced. The QD2100 was specifically designed so that a replacement window pack can be ordered to replace damaged or scratched windows without having to send the scanner away for repairs. This helps to reduce the total cost of ownership during the life of the scanner and helps to ensure that it is always available for use.
Features
Datalogic's patented 'Green Spot' technology for good-read feedback
User replaceable scan window
Two multi-interface options support the most popular interface combinations
Supports GS1 DataBar™ codes
Remote Host download functions (Model QD2110)
Water and Particulate Sealing Rating: IP42
QuickScan I QD2100 Models and Kits

QuickScan I QD2110, Linear Imager, IBM/OEM USB/ RS-232 Multi-Interface, Black
QD2110-BK
QuickScan I QD2110, Linear Imager, IBM/OEM USB/ RS-232 Multi-Interface, White
QD2110-WH
QuickScan I QD2130, Kit, KBW, Linear Imager, KBW/USB/Wand/RS-232 Multi-Interface, Black (Kit inc. Imager and KBW Cable 90G001010)
QD2130-BKK3
QuickScan I QD2130, Kit, KBW, Linear Imager, KBW/USB/Wand/RS-232 Multi-Interface, Black (Kit inc. Imager, Stand and KBW Cable 90G001
QD2130-BKK3S
QuickScan I QD2130, Kit, KBW, Linear Imager, KBW/USB/Wand/RS-232 Multi-Interface, White (Kit inc. Imager and KBW Cable 90G001010)
QD2130-WHK3
QuickScan I QD2130, Kit, KBW, Linear Imager, KBW/USB/Wand/RS-232 Multi-Interface, White (Kit inc. Imager, Stand and KBW Cable 90G001010)
QD2130-WHK3S
QuickScan I QD2130, Kit, USB, Linear Imager, KBW/USB/Wand/RS-232 Multi-Interface, Black (Kit inc. Imager and USB Cable 90A052044)
QD2130-BKK1
QuickScan I QD2130, Kit, USB, Linear Imager, KBW/USB/Wand/RS-232 Multi-Interface, Black (Kit inc. Imager and USB Cable 90A052065)
QD2130-BKK12
QuickScan I QD2130, Kit, USB, Linear Imager, KBW/USB/Wand/RS-232 Multi-Interface, Black (Kit inc. Imager, Stand and USB Cable 90A052044)
QD2130-BKK1S
QuickScan I QD2130, Kit, USB, Linear Imager, KBW/USB/Wand/RS-232 Multi-Interface, Black (Kit inc. Imager, Stand and USB Cable 90A052065)
QD2130-BKK12S
QuickScan I QD2130, Kit, USB, Linear Imager, KBW/USB/Wand/RS-232 Multi-Interface, White (Kit inc. Imager and USB Cable 90A052044)
QD2130-WHK1
QuickScan I QD2130, Kit, USB, Linear Imager, KBW/USB/Wand/RS-232 Multi-Interface, White (Kit inc. Imager, Stand and USB Cable 90A052044)
QD2130-WHK1S
QuickScan I QD2130, Linear Imager, KBW/USB/Wand/RS-232 Multi-Interface, Black
QD2130-BK
QuickScan I QD2130, Linear Imager, KBW/USB/Wand/RS-232 Multi-Interface, White
QD2130-WH